The 2019 GMC Yukon maintains the traditional sense of what an SUV originally was: a body-on-frame design and heavy-duty drivetrain – but that doesn't mean that it can't have a dressed up styling theme and a full layer of comfort and high-tech features. The GMC brand has positioned itself as an upmarket Chevrolet, and the Yukon firmly sustains this hierarchy.
What's New for 2019
The 2019 GMC Yukon offers two new option packages on the SLT trim: the Graphite Edition package, which brings a darkened exterior appearance, and the Graphite Performance Edition package, which includes a host of mechanical and feature upgrades.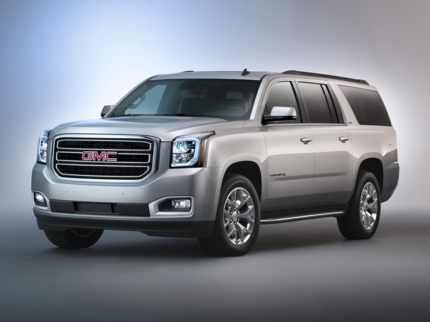 Choosing Your GMC Yukon
The GMC Yukon comes standard with a modern 5.3-liter V8 that features direct injection and cylinder deactivation and is solely mated to a six-speed automatic transmission. All 355 horsepower and 383 pound-feet of torque are called upon to move this heavy vehicle, especially when utilizing the upper range of its 8,000-plus-pound towing limit. A larger 6.2-liter with 420 peak hp and 460 lb-ft of torque is paired with a 10-speed automatic transmission and is available with the new SLT Graphite Performance Edition and the top of the line Denali trim.
The Yukon is also available in an extended version known as the Yukon XL, with prices rising between $1,400 to $2,400 over the regular Yukon depending on trim level. Stretching over 20 inches longer than the standard-length model, the Yukon XL offers a little bit more leg room for the second-row passengers and a lot more leg room for the third-row passengers. The cargo area behind the third row also increases in volume by 25 cubic feet.
Fuel efficiency estimates are dependent on the drivetrain and model. The smaller engine with rear-wheel drive achieves an EPA-estimated 15 miles per gallon city, 22 mpg highway and 18 combined. Adding four-wheel drive brings significant hardware yet only reduces fuel economy to 15/21/17 mpg (city/highway/combined). Here, the added mass of the XL model becomes noticeable, as the EPA's city and combined ratings are each lowered by one mpg. The more powerful powertrain achieves 14/23/17 mpg, 14/22/17 mpg with four-wheel drive, or 14/20/16 mpg on the XL.
The four-wheel-drive system is optional throughout the lineup for $3,000 and includes an automatically engaging single-speed transfer case. Either transmission includes programming for a Tow/ Haul Mode and buttons for manual gear selection.
There are four trim levels:
CarsDirect Tip
The 2019 GMC Yukon is attractive with its ruggedness and wide range of capabilities. The vehicle feels most purposeful with the added features of the SLT Trim and the optional adaptive cruise control for those long hauls.