More practical than the sedan. The Hyundai Elantra is a tale of two models: the sporty GT hatchback and the standard sedan. The hatchback is the more practical of the two as it supplies the utility most new vehicle shoppers want today.
Indeed, the 2019 Hyundai Elantra GT has 24.9 cubic feet of storage space behind the second-row seat. Fold down the rear seat and that space increases to 55.1 cubic feet. On the other hand, the sedan supplies 14.4 cubic feet of cargo space. The Elantra GT is the clear winner and an ideal alternative to a utility vehicle.
Affordable model for tuner set. Starting out at $21,335, the Elantra GT is competitively priced with the Toyota Corolla Hatchback, Mazda3 5-Door hatchback, Volkswagen Golf, and Honda Civic. It also includes some features that'll cost you extra elsewhere, including power-controlled and heated side mirrors, alloy wheels, and Apple CarPlay and Android Auto smartphone compatibility.
Like its competitors, the Elantra GT targets tuners, individuals who like to customize their rides. The N Line bundles many of the items consumers want, including performance tires, alloy pedals, and sport front seats. The same aftermarket suppliers that target Mitsubishi, Ford, and Honda owners offer plenty for Hyundai buyers to consider as well.
Enhanced performance with available N Line. The Elantra GT includes both standard and N Line models, the latter with a distinct performance edge. A multi-link rear suspension and rear stabilizer bar give the N Line its handling chops. You'll also find a firm, yet absorbent ride.
The standard model comes with a 2.0-liter four-cylinder engine with 161 horsepower and 150 pound-feet of torque. The N Line features a 1.6-liter turbocharged four-cylinder engine with 201 hp and 195 lb-ft of torque.
Only the N Line comes with a six-speed manual transmission. This gearbox allows for quick shifts and supplies a clean clutch uptake. Although it doesn't rival the manual transmissions found in sports cars, it's definitely an improvement over the standard shifters in rival mainstream models. Choose the standard Elantra GT and Hyundai supplies it with a six-speed automatic. The N Line also allows for an upgrade to a seven-speed dual-clutch transmission.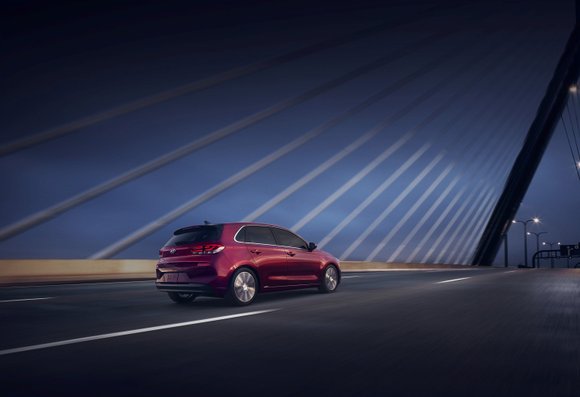 Top safety features available, with a catch. Do you prize driver-assist safety features such as adaptive cruise control with full stop and go? How about high beam assist, lane keeping assist, and forward collision warning with pedestrian detection? Each of these features will soon become standard on new models, but for now, you typically must upgrade to get them.
Hyundai does offer blind-spot monitoring, rear cross-traffic alert, and lane change assist with the standard Elantra GT model, but it's bundled within a $2,900 Style Package, thus it costs extra. These features are standard with the Corolla Hatchback.
As for the other safety features, you can only find them with the N Line after selecting the $1,100 seven-speed transmission. It still costs another $3,850 on top of that to access them in the Tech Package.
Final thoughts. We very much like that Hyundai is staying with cars even as the domestics abandon or cut back on various models. The 2019 Hyundai Elantra GT should appeal to Ford Focus owners, who no longer can buy a new one in the US. It's also light-years ahead of the dated Chevrolet Sonic.
The Elantra GT shares its platform with the sporty and quirky Hyundai Veloster. The Veloster costs just under $2,000 less than the Elantra GT and also features a performance N model with 275 horsepower. Regardless of your choice, a small Hyundai with performance credibility awaits.