Feature massaging in 2019. The looks of the 2019 Hyundai Ioniq Electric are the same as they were when the model debuted back in 2017, but there are some feature updates for 2019.
The Ioniq Electric is even safer with its all-new available driver-attention alert and automatic high-beam headlights. Hyundai also made the Ioniq Electric's voice recognition more effective with its new server-based natural-language system.
Traditional styling. When electric vehicles returned to the market, many came with funky looks that broadcasted their uniqueness to unsuspecting victims on the road – looking at you, Mitsubishi i-MiEV. But the Hyundai Ioniq Electric is the anti-EV in terms of appearance thanks to its traditional sedan-like design. It only gives up its secret identity as a green superhero via its plug-access door and closed grille.
Inside, this traditional look carries on, giving it a far more forgiving appearance than many of the green cars of today. This toned-down styling makes the Hyundai Ioniq Electric an EV the masses can appreciate.
If there's one area where the Ioniq Electric takes some stylistic liberties, it's the sloped rear glass. While this looks great and creates a liftback design that can swallow up to 23.8 cubic feet of cargo, this makes head room tight for taller back-seat riders.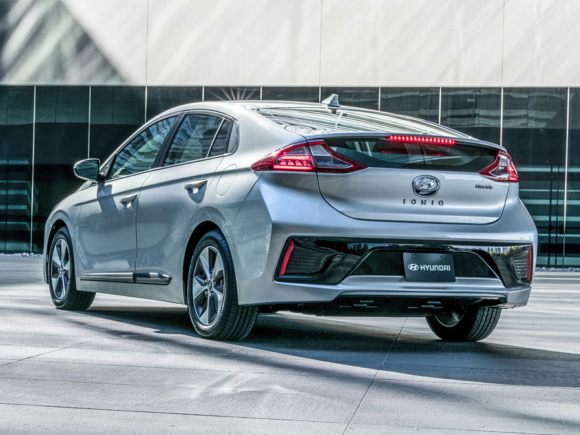 Flattened learning curve. Styling is one reservation buyers have against buying an electric vehicle, but others frown upon the steep learning curve other EVs have. They tend to offer overly complex infotainment systems and more buttons than many drivers would know what to do with.
The Ioniq Electric instead uses a traditional center stack setup with buttons and controls buyers are used to seeing in traditional sedans. Also, with its standard Apple CarPlay and Android Auto, which is typical in the EV segment, the infotainment system operates just like the cellphones most people use every day.
A tale of two efficiency ratings. Under the Ioniq Electric's skin is a 118-horsepower electric motor that delivers respectable off-the-line torque, but it's far from fast. What it does well is manage its power supply to the tune of a market-leading 136 miles per gallon of gasoline equivalent (MPGe) combined, according to the EPA.
While its ability to manage power efficiently is incredible and gives it the highest efficiency rating in the US, the Ioniq Electric's 28-kilowatt-hour battery pack has less than half the capacity of the Chevrolet Bolt EV's 60-kilowatt-hour battery. This gives it just a 124-mile range, which is 114 miles less than the Bolt EV, 26 miles less than the Nissan LEAF, and 102 miles behind the new LEAF e+. In a world where the total range is more important than efficiency, this could be a make-or-break specification.
Final thoughts. The 2019 Hyundai Ioniq Electric is a wonderful electric vehicle for buyers who've grow tired of advanced powertrains coming with over-the-top styling. Its simple design looks great without being in your face about it, and this translates nicely into its functional and stylish cabin.
While it's efficient and has the range to cover most daily commutes, buyers who have longer commutes or frequently head out of town will prefer the 200-plus-mile ranges in the Chevy Bolt EV and Nissan LEAF e+. Buyers who often haul adults or tall children in the rear seats may also prefer the extra head room the Bolt EV offers.