Excellent fuel economy. When it comes to plug-in hybrids, the 2019 Hyundai Ioniq Plug-In Hybrid ranks toward the top with its gasoline fuel economy. With a 1.6-liter four-cylinder engine, the vehicle gets an EPA-estimated 52 miles per gallon combined. Only one vehicle, the Toyota Prius Prime, manages to best that with a combined rating of 54 mpg.
The Ioniq Plug-In Hybrid can travel on gas and on electricity. It has an all-electric range of 29 miles, according to the EPA, and can go another 601 miles when running on gas for a total range of 630 miles. When not running on gas, the plug-in hybrid has an EPA rating of 119 miles per gallon of gasoline equivalent (MPGe) combined.
Good cargo space. Because of the Ioniq Plug-In Hybrid's hatchback body style, the vehicle has more cargo space than a lot of its competitors that have sedan body styles. With the second row in place, the vehicle has 23.8 cubic feet of available cargo space. That bests competitors like the Chevrolet Volt, Ford Fusion Energi, and Honda Clarity Plug-In Hybrid.
Fantastic value. In typical Hyundai fashion, the Ioniq Plug-In Hybrid comes with an excellent list of standard features. The base plug-in hybrid model comes with: heated side mirrors, automatic headlights, dual-zone climate control, heated front seats, a 7-inch touchscreen, and Android Auto and Apple CarPlay.
In addition to having a strong list of standard features, the Ioniq Plug-In Hybrid can be fitted with a sunroof, HID headlights, automatic high beam assist, wireless charging, an eight-speaker Infinity audio system, and an 8-inch touchscreen.
Behaves and looks mainstream. The Ioniq Plug-In Hybrid's exterior design falls somewhere between being something that stands out and something that's more mainstream. For consumers that don't like standing out with something futuristic, the Hyundai's design will be welcome.
While the plug-in hybrid is all about fuel efficiency, the model is surprisingly fun to drive. In normal driving, the model manages to feel like a normal vehicle, which is high praise for a plug-in hybrid – they tend to be quirky. Power is adequate for daily driving and the regenerative braking system works well overall.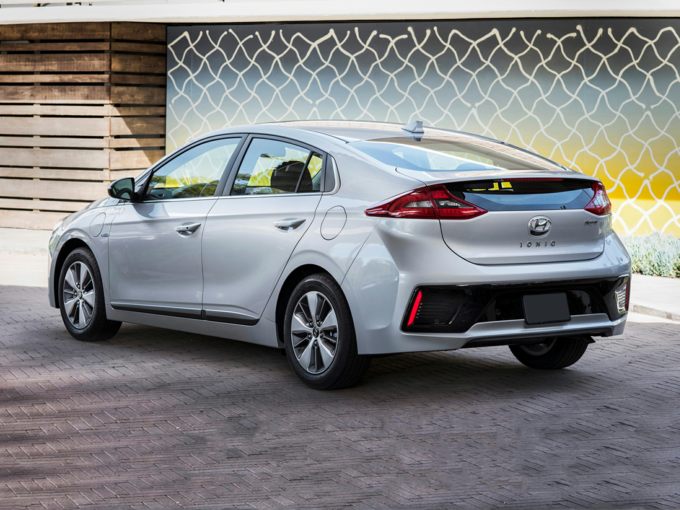 Final thoughts. As a complete package, it's hard to fault the 2019 Hyundai Ioniq Plug-In Hybrid. It has decent all-electric range, great fuel economy when running on gasoline, and behaves like a regular car, which is better than what some competitors offer. It's also an excellent value proposition.
A lot of automakers have been happy to make uncomfortable, futuristic plug-in hybrids that require you to compromise to get good fuel economy. That's not the case with the Ioniq Plug-In Hybrid.
The competition is fierce. The Chevy Volt has a more usable all-electric range of 53 miles. Going with the Toyota Prius Prime brings better fuel economy and more overall range (640 miles). If you're after a more spacious cabin, the Kia Niro Plug-In Hybrid is a better alternative.