Excellent electric range. Every automaker, except for Tesla, trails behind the 2019 Hyundai Kona Electric when it comes to overall range. With a 64 kWh battery pack, the Kona Electric boasts an all-electric range of 258 miles, according to the EPA. This figure bests other electrics like the Chevrolet Bolt, Volkswagen e-Golf, Nissan Leaf, and Hyundai Ioniq Electric.
In addition to having one of the best ranges on the market, the Kona Electric is capable of being charged on a number of chargers. On a Level 3 quick charger that's pumping out 100 kW, the Kona Electric can get 80 percent of its charge in just 54 minutes. A Level 3 charging system at 50 kW can fill the Kona Electric's battery to 80 percent in 75 minutes. If you're using a Level 2 charger, filling up the Kona Electric's battery takes nine hours and 35 minutes.
Features galore. For a car with an eye on efficiency, the Kona Electric has a lengthy list of standard equipment. Safety wise, the model comes with blind-spot monitoring, rear cross-traffic alert, forward collision warning, automatic emergency braking, lane keeping assist, and driver attention warning as standard.
Other standard features include: LED taillights, automatic headlights, heated side mirrors, heated front seats, a 7-inch touchscreen, Android Auto and Apple CarPlay integration, and automatic climate control. For an affordable electric vehicle, the Kona's list of standard equipment is impressive.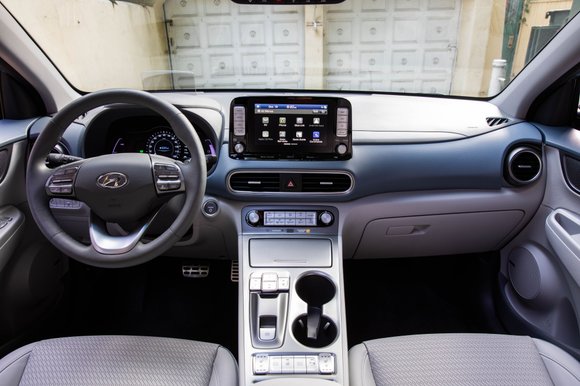 Limited availability. The Kona Electric will only be sold in a handful of states. At the time of launch, the Kona Electric was only available in California. Hyundai hasn't stated when the Kona Electric will spread to other ZEV states – Connecticut, Maine, Maryland, New York, New Jersey, Massachusetts, Rhode Island, Oregon, and Vermont. The Kona Electric won't be available throughout the entire nation.
Tight quarters. Thankfully, Hyundai has figured out a way to where the electric powertrain doesn't eat into the Kona Electric's interior space, but those figures were never good to begin with. Passengers in the front may have a decent amount of room, but those in the back will find themselves cramped. Head room in the back is lacking, as is rear leg room. At 19.2 cubic feet of cargo space, the Kona Electric shares the same cargo space as the Kona.
Final thoughts. Take Tesla out of the equation, and the 2019 Hyundai Kona Electric has the most range of any electric car. With its affordable price tag, the Kona Electric makes range anxiety a thing of the past without costing you an exorbitant amount.
We would've been content with the Kona Electric's impressive range, but its starting price, excellent list of standard features, and comfortable ride make the EV one of the best in the segment. The few things holding the Kona Electric back are its limited availability and cramped cabin.
The Long Range Tesla Model 3 is the champ when it comes to range with compact EVs. When properly equipped, the Model 3 can travel up to 325 miles. The Chevrolet Bolt is more readily available and comes close with a range of 238 miles. If range anxiety is a real issue, a plug-in hybrid, like the Chevrolet Volt, might be a better fit. It can travel up to 53 miles on a single charge before a gas engine kicks on for an extra 185 miles after that.