Roomier and more comfortable. All-new this year, the 2019 Hyundai Santa Fe sports a 2.6-inch wheelbase increase and a 2.8-inch length increase. Rear seat riders now enjoy 40 inches of leg room, with 36 cubic feet of cargo space behind them that expands to 71 cubes with the rear seats folded.
The front seats offer improved bolstering and comfort, while there's enough space in the supportive back seats to easily accommodate three adults. A three-row version will be offered later this year, slightly affecting back seat room and, as with most vehicles in this class, only offering space suitable for children.
Handsome styling. Completely redesigned for 2019, the latest Santa Fe is bigger and taller, with brawnier styling to match its new dimensions. The newfound sense of style has more road presence courtesy of a bigger and more aggressive grille, as well as a more upright, vertical tailgate.
In addition to more rear seat room, the squarer roofline allowed designers to increase the window area by 40 percent for a brighter interior – the better to enjoy the new, deeply sculpted, two-tier dashboard, and plethora of storage cubbies and shelves. Alas, the cloth on lower trims feels thin, while the leather, which feels more durable, is stiff to the touch.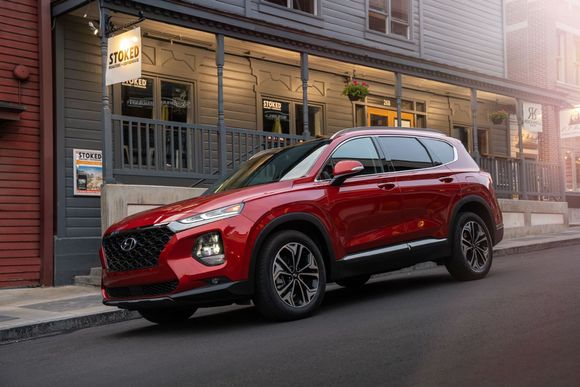 Advanced safety. The Santa Fe offers a wide range of standard advanced safety features, including forward collision warning with pedestrian detection, adaptive cruise control with start/stop, automatic emergency braking, lane departure warning, lane keeping assist, blind-spot monitoring, and rear cross-traffic alert. Depending on trim, options include front and rear parking sensors, and a rear seat occupant alert.
Engine choices. The latest Santa Fe offers choice of two engines. The base engine for all five trims is a 2.4-liter direct injection four-cylinder generating 185 horsepower and 178 pound-feet of torque – adequate for a vehicle this size.
The optional engine, available on Limited and Ultimate models, is a 2.0-liter turbocharged four-cylinder that generates 235 hp and 260 lb-ft of torque and excels at passing speeds. Both engines are mated to a new eight-speed automatic transmission.
Fuel economy is good, with the 2.4-liter achieving an EPA-estimated 22 miles per gallon city, 29 mpg highway, and 25 combined on front-wheel-drive models, which is near the top of the class. The 2.0-liter turbo returns 20/25/22 mpg (city/highway/combined) on FWD models.
A performance issue we encountered concerns the eight-speed transmission that, when matched with the 2.0-liter turbo, momentarily hesitates off the line when you put your foot into it. We appreciate the additional two gears over last year's unit, but a bit of work still needs to be done.
Final thoughts. The all-new 2019 Hyundai Santa Fe, which replaces last year's Santa Fe Sport, offers a smooth ride, spacious interior, long list of standard safety features, and a compelling value.
If Hyundai could recalibrate the eight-speed transmission, offer a more durable-feeling fabric, and softer leather seats, we would have little to complain about.
In terms of competition, the Toyota Highlander offers a more spacious interior with many of the same advanced safety features. The Mazda CX-9 boasts a more premium look inside and out, while Ford and Jeep offer some exciting choices like the 335-hp Ford Edge Sport and the 360-hp Hemi, 475-hp SRT, and 707-hp Trailhawk Jeep Grand Cherokees.