Sure, the 2019 Hyundai Tucson has a new look, but it still sticks to the brand's traditional game plan of offering consumers excellent value, some high-end features, and an extended warranty. The Tucson's updates have made it more desirable in the highly competitive compact crossover segment.
What's New For 2019
Hyundai redesigned the Tucson for the 2019 model year. The vehicle has a new exterior design, minor interior changes, more safety features, and more standard equipment. On the tech front, forward collision warning, automatic emergency braking, and lane keeping assist are standard. Optional technology features now include a driver attention warning system, adaptive cruise control with stop and go, and a surround-view camera. Other new features that have been added to the Tucson include an electronic parking brake and a 7-inch infotainment display with Apple CarPlay and Android Auto. Two new engines – a 2.0-liter four-cylinder and a 2.4-liter four-cylinder – have been added to the Tucson's roster.
Choosing Your Hyundai Tucson
With the discontinuation of the turbocharged 1.6-liter four-cylinder engine, there are two naturally aspirated engines on offer for the compact crossover. The base engine is a 2.0-liter inline-four that produces 164 horsepower and 151 pound-feet of torque. The engine is paired with a six-speed automatic transmission. Front-wheel drive is standard, while all-wheel drive is also offered for $1,400 across the range.
Higher trims feature a 2.4-liter four-cylinder motor that generates 181 hp and 175 lb-ft of torque. Once again, Hyundai went with a six-speed automatic transmission. The same drivetrain layouts are offered on the larger engine.
The EPA rates the Tucson with the 2.0-liter engine to get up to 23 miles per gallon city, 30 mpg highway, and 26 combined with front-wheel drive, or 22/25/23 mpg (city/highway/combined) with all-wheel drive. Tucson models with the 2.4-liter engine aren't too far behind with ratings of 22/28/25 mpg with FWD or 21/26/23 mpg with AWD.
The Tucson's engines are its only shortcomings. Even the larger 2.4-liter engine is down on power compared to the competition and fails to feel muscular. With the subpar power figures and the lackluster fuel economy, the Tucson's engines leave you wanting more.
However, everything else about the Tucson shines. Ride quality, even with large wheels, is superb, the cabin is serene, and everything about it screams comfort. With the Tucson's ride and high-end cabin, the compact crossover is quasi-luxurious.
Configuring a Tucson is fairly easy, as Hyundai doesn't offer it with any packages. Instead, features are spread out across the six trims: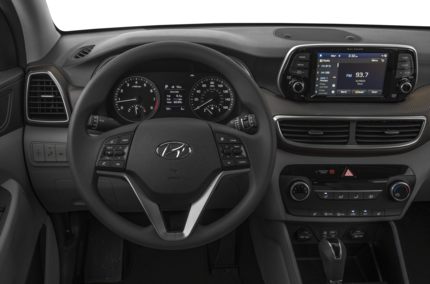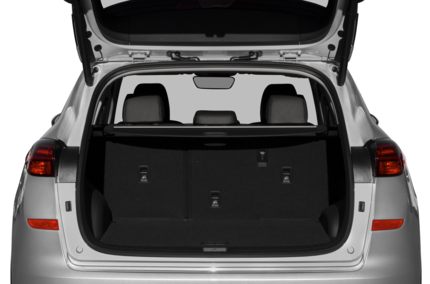 CarsDirect Tip
With the more powerful 2.4-liter four-cylinder engine, which brings more towing capacity (2,000 pounds over the base 2.0-liter's 1,500 pounds) and similar fuel economy, the SEL trim is the most attractive in the 2019 Hyundai Tucson lineup. It also comes with a healthy list of safety features and has all of the plush qualities we enjoy about the Tucson.