Launched last year as an all-new model, the Jaguar E-Pace continues to be the British marque's smallest and most affordable entry into its world of SUVs. With the latest compact crossover, Jaguar's SUV lineup now spans three models: the E-Pace, F-Pace, and I-Pace – each offering consumers with different levels of performance, size, and fuel efficiency. While the E-Pace is the baby of the family, its attractive styling and athletic handling could help it become the brand's most popular vehicle.
What's New for 2019
As an all-new model last year, the 2019 E-Pace arrives with no significant changes.
Choosing Your Jaguar E-PACE
All E-Pace models are powered by a turbocharged 2.0-liter inline-four engine, though it's available in two different tunes. In base trims, the engine produces 246 horsepower and 269 pound-feet of torque. The more capable R-Dynamic trims get a more powerful variant of the four-cylinder engine that cranks out 296 hp and 295 lb-ft of torque. A nine-speed automatic transmission is the only available gearbox, while two all-wheel-drive systems are offered.
Because of its compact size and small engine, fuel economy for the E-Pace is impressive. The SUV is rated by the EPA to get up to 21 miles per gallon city, 28 mpg highway, and 24 combined.
There are two all-wheel-drive systems that are available for the E-Pace. The standard one distributes torque between the front and rear axles, maximizing handling, stability, and fuel economy when appropriate. In extreme conditions, the first all-wheel-drive system can send the majority of the engine's power to the rear wheels to get through a tricky situation.
The SUV can be fitted with an available Active Driveline all-wheel-drive system that ensures power is only going to the E-Pace's front wheels, locking out the need for power to the rear for added fuel economy. When the situation arises for extra grip, the system can transfer torque from both axles and even from wheel to wheel.
The E-Pace is available in six trims: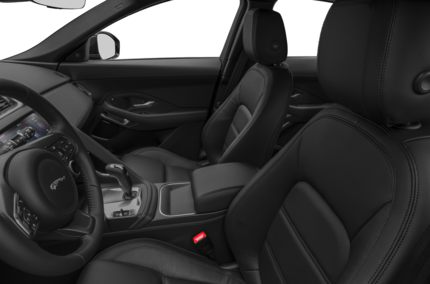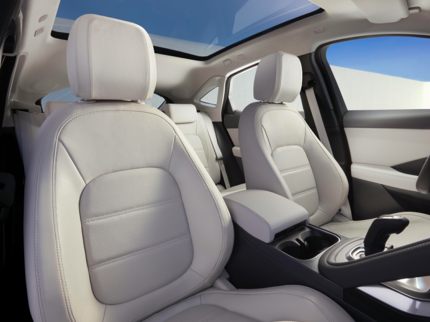 CarsDirect Tip
The 296-hp version of the turbocharged four-cylinder engine fits the sport character of the 2019 Jaguar E-Pace better, so we'd go with one of the R-Dynamic trims. The R-Dynamic S has a good list of features and by choosing the Cold Climate Package, Configurable Dynamics, and the Park Package, you can get into a well-equipped model that's comfortable and easy to drive. Optional features are pricey on the E-Pace, so keeping an eye on how many extras you get is crucial, as you can quickly get into something that's more expensive than the F-Pace, which has better performance and is more versatile.