A raw and unequivocal sports car has the rare ability to awaken the senses with the abruptness of a morning alarm. Such an automobile is pure extravagance; it pushes aside any thoughts of sensibility or practicality for the gusty winds of carefree living. These type of cars exist in their own exclusive stratosphere, often way beyond the realm of affordability. The 2019 Jaguar F-Type, though, defies this. It's a rare sweet spot, combining unparalleled beauty and brawn with a starting price tag that's within reach of the upper middle-class.
What's New for 2019
There are no significant changes for 2019.
Choosing Your Jaguar F-Type
At first glance, the F-Type's long hood and svelte proportions seem to all but guarantee that there's some illustrious and exotic powertrain hidden beneath the sheetmetal. As it turns out, that's true – most of the time. In an effort to drum up a few more sales and make the car a bit more attainable, the Jaguar folks offer the base F-Type with a 2.0-liter turbocharged four-cylinder engine. Despite being the "loss-leader" engine, it manages to pump out an impressive 296 horsepower and 295 pound-feet of torque, and can do the zero-to-60 mph dance in 5.4 seconds. Power is sent back to the rear wheels via an eight-speed automatic transmission.
If you demand a manual shift in your sports car, Jaguar offers a six-speed with the available 3.0-liter supercharged V6. This motor makes either 340 or 380 hp depending on the tune; the 340-horse version does zero-to-60 in five seconds flat, while the 380-hp variant cuts that down to 4.8 seconds. If shifting for yourself isn't your thing, the eight-speed automatic is again available.
For maximum power, go for the 5.0-liter supercharged V8, which is only available in the top-dog R and SVR models. With 550 hp for the R and 575 in SVR spec, this is a bona-fide hot-rod Jaguar. Unlike the lower-spec cars, the V8-powered cars are only offered with all-wheel drive. The prodigious power and added grip make the zero-to-60 mph run something that can be completed in just 3.5 seconds. Top speed is 200 mph.
Having this kind of firepower under the hood demands a stringent safety net in case things go south. To that end, all F-Types are equipped with safety features such as automatic emergency braking, lane departure warning, traffic sign recognition, rear parking aid, and a driver condition monitor. Additional safety features like a front parking aid ($285), park assist ($510), and blind-spot monitoring with rear cross-traffic alert ($500) are optional.
With the F-Type, the best soundtrack is the bellow coming from that active exhaust, but if you're looking to play your own tunes all models utilize a Meridian 10-speaker/380-watt sound system. A 12-speaker/770-watt Meridian sound system is available across the board for $770.
The F-Type is available as a convertible as well. The soft-top is available in every trim and costs an additional $3,100 over the equivalent hardtop variant.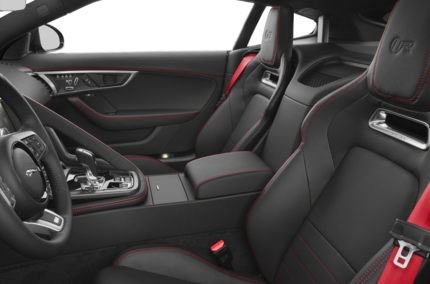 CarsDirect Tip
The V8 models are powerful, sonorous machines, but with six-figure price tags they are hard to justify. Our favorite of the 2019 Jaguar F-Type litter is the 340-hp V6, manual-transmission, base-model. With a starting price that sneaks in under $70,000, it's a strong value for the level of performance, engagement, and standard equipment that comes along with it.