Model Preview
After countless teasers, updates, and chatter, the 2019 Jaguar I-PACE all-electric crossover will soon be a reality here in the U.S. Visually, the I-PACE will carry most of the styling points from its concept over into production, even its wild reverse scoop on the hood. Some of the lines are just a touch softer on the production model, like the crease in the rear haunches. Otherwise, this is a living concept that buyers will soon be able to put in their driveways.
Even the interior is very concept-like, as its front seats are thin with aggressive bolsters, and its center console features the two posts with buttons and more screens than you could ever imagine in a car. As expected in a smaller crossover, the rear leg room will be a little tight at just 35 inches, but cargo room will be decent at 25.3 cubic feet behind the rear seats and 51 cubes with the seats folded.
Features will include the all-new Jaguar InControl Touch Pro Duo infotainment system, which uses dual touchscreens that work both with touch and redundant physical knobs. There will also be an Alexa Skill that allows the driver to ask various questions about the vehicle, like "is there enough charge to get to the store," and get accurate answers. And when it's time to update its advanced systems, Jaguar will send over-the-air updates, so owners do not need to roll into the shop.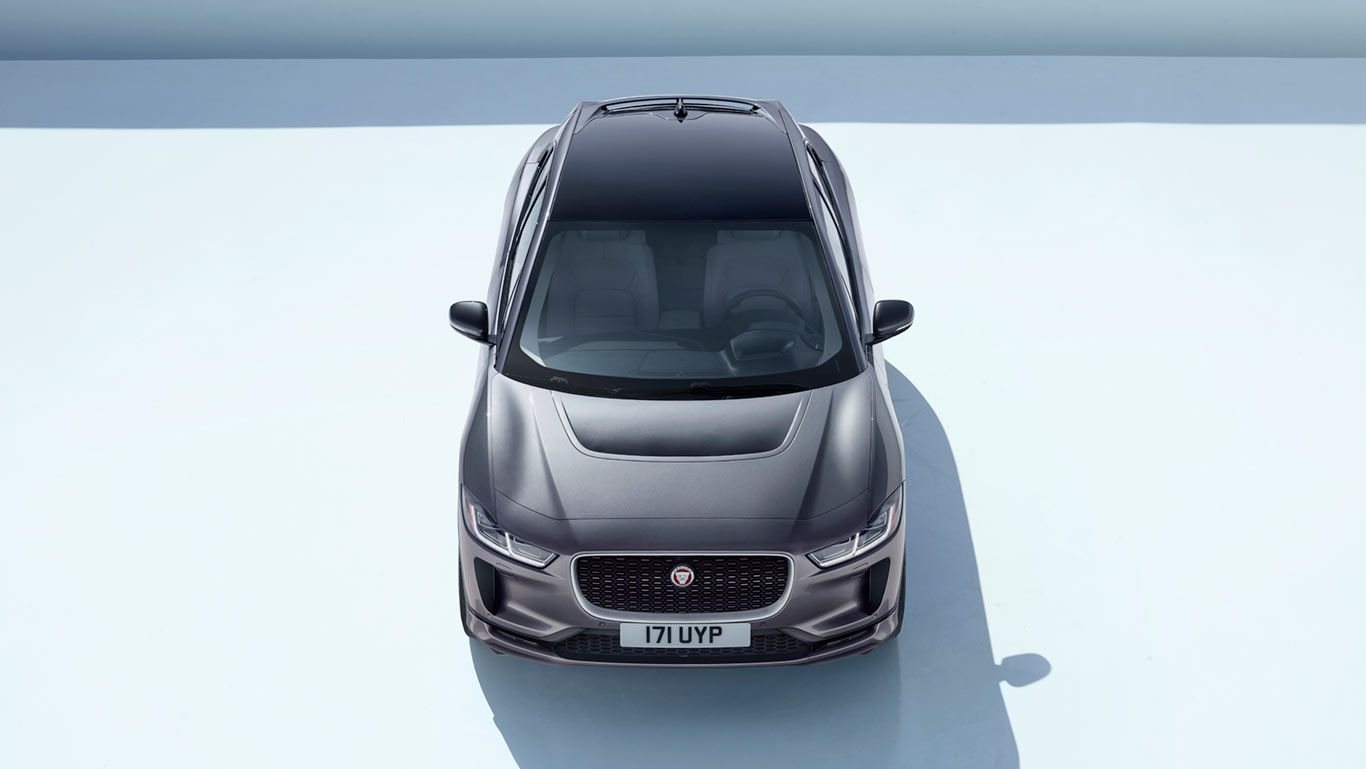 The I-PACE is set to boast an all-electric powertrain with two motors powered by a 90-kWh battery pack. This will deliver 394 horsepower and 512 pound-feet of torque to all four wheels and up to 240 miles of range. The I-PACE will sprint to 60 mph in just 4.5 seconds, while a 50-50 weight distribution and a low center of gravity will keep it glued to the road in the corners. Charging on a 100-kW DC fast charger will regain 80 percent of the battery's charge in as little as 40 minutes, but charging at home with a 230-volt, 7-kW AC wall box will take a full 10 hours to get the same charge.
In terms of safety, there are no IIHS tests yet, but we do know that the midrange I-PACE SE will come with advanced safety features like adaptive cruise control, high-speed automatic emergency braking, and blind-spot assist. This means the I-PACE is primed to be an IIHS Top Safety Pick+ if it can hold up structurally and its headlights pass the test.
Pricing and Release Date
Jaguar plans to have the 2019 I-PACE ready for delivery in the second half of 2018.
Standard pricing will start from $70,495 and tops out at $81,495 (destination fees included). There will be a limited-run I-PACE First Edition that will push initial pricing as high as $86,895.
The only competition the 2019 I-PACE will face will be the Tesla Model X, but buyers may also consider the BMW X5 xDrive40e iPerformance or the Mercedes-Benz GLE550e.
Photos
Pictured: 2019 I-PACE