Electric cars are undeniably going to be a part of our future, and automakers around the world have been hard at work developing them and trying to get ahead of the competition. The 2019 Jaguar I-PACE is the British brand's newest electric contribution, offering an all-electric powertrain, fast-charging batteries, 298 miles of range, and surprising performance.
What's New for 2019
The 2019 Jaguar I-PACE is a brand new crossover.
Choosing Your Jaguar I-PACE
The Jaguar I-PACE is the first electric car to come from Jaguar, and it seems to have the right stuff. The I-PACE is powered by two electric motors that generate 394 horsepower alongside a substantial 512 pound-feet of torque immediately, allowing the I-PACE to hit 60 miles per hour in just 4.5 seconds. Fully charged, the I-PACE gets a 298 mile range on the WLTP test cycle, and it takes just 40 minutes of charging to get back 80 percent of that at a 100 kilowatt rapid charging location. If you're in more of a rush, the I-PACE is able to get 62 miles of range in just 15 minutes.
All I-PACE models come very well equipped. Standard features include include park assist, leatherette sport seats, navigation that's tailored to electric vehicles, a 4G WiFi hotspot, a fixed panoramic roof, adaptive air suspension and LED headlights. There's also an impressive suite of driver assistance features like automatic emergency braking for low speeds, a driver condition monitor that'll alert you if you get drowsy, and lane keeping assist.
Currently, there are four trim levels: S, SE, HSE, and First Addition. Options are widely available for all trim levels, as a part of both packages and on their own. Almost everything offered at higher trim levels is available individually at lower trims, so be careful while selecting options. Also, while the I-PACE's sticker price may look expensive, it's important to keep in mind that number doesn't include Federal tax credits and state incentives that can bring it down significantly depending on where you live.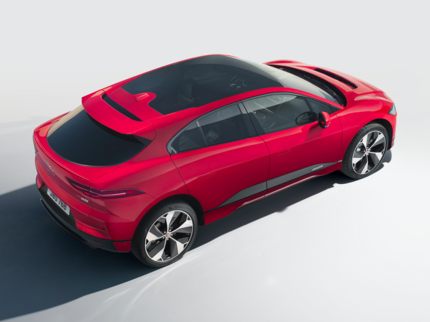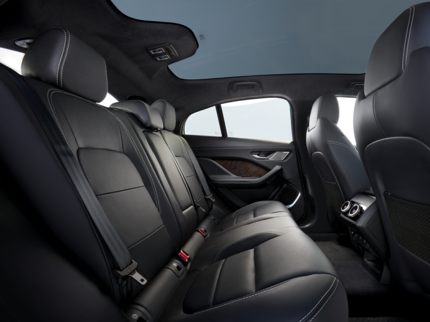 CarsDirect Tip
The 2019 Jaguar I-PACE is incredibly configurable. Every single option on the I-PACE is available on the base models, so you can build and configure it exactly the way you'd like it. We'd recommend going for the mid-grade SE trim, as it comes standard with several features that outweigh the cost if you were to option them individually. From there, pick and choose what options you'd like and which ones you can live without, but be careful as they can add up very quickly.