Styling updates. The 2019 Kia Optima Plug-In Hybrid rolls into showrooms with a new look thanks to a refresh. This update includes a restyled bumper with new fog light and center air vent design, a reworked rear bumper, and updated wheel options. Sure, the changes are subtle on the outside, but they keep things fresh on an already stylish sedan.
Inside, the Optima Plug-In Hybrid remains mostly unchanged, but there's a new UVO infotainment system with easier-to-navigate menus and standard smartphone integration.
Front seat riders have all the fun. The Kia Optima Plug-In Hybrid gets serious points for front seat comfort. Not only does it offer at least eight-way power adjustable front seats, but there's also loads of room, the perfect amount of side bolstering, and plenty of padding for your backside. To up the comfort, buyers can opt for heated and cooled front thrones.
With wide-opening rear doors, getting access to the rear seats is easy, but that's about where the fun ends. Once you're in the back seat, the Optima's sloping rear roofline gobbles up head room, leaving just 37.8 inches of space. This means anyone near 6 feet tall will get an up close and personal introduction to the headliner.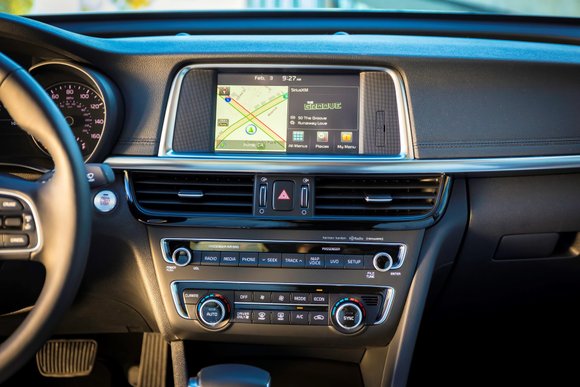 Thrifty drive for a family vacation, but pack lightly. The Optima Plug-In Hybrid delivers a combined 202 horsepower and 276 pound-feet of torque between its 140-hp 2.0-liter gasoline engine and 66-hp electric motor. This setup offers decent straight-line performance, but its real benefit is thriftiness with its EPA-estimated 29 miles of electric-only range, 103 miles per gallon of gasoline equivalent rating (MPGe), and 40 mpg combined rating in hybrid mode.
With that great fuel economy, the Optima Plug-In Hybrid may seem like a great option for a road trip. Sure, it'll get you there efficiently, but its 9.8-kilowatt-hour battery pack eats up six cubic feet of cargo room when compared to the standard mode, leaving just 9.9 cubes of space in the trunk. You'd better pack lightly.
All the technology, but safety costs. The Optima Plug-In Hybrid has loads of standard tech, including the UVO infotainment system with Apple CarPlay and Android Auto, a 10-speaker Harman Kardon audio system, power front seats, a heated steering wheel, and much more.
Despite all those desirable standard tech features, it turns a blind eye to advanced safety tech. The standard Optima forgoes many of the tech goodies the Plug-In Hybrid model has, but it comes standard with life-saving automatic emergency braking. The Optima Plug-In Hybrid model, which comes in only the EX trim, packages this important feature in its $5,000 EX Technology Package.
With this package in place, though, the 2019 Kia Optima Plug-In Hybrid is an IIHS Top Safety Pick Plus with its "Good" ratings in all its crash tests, a "Superior" front-collision-avoidance test, and "Good" headlight results.
Final thoughts. The 2019 Kia Optima Plug-In Hybrid combines incredible style, safety, and thriftiness in one relatively inexpensive package. It would be nice to see some trim options like in the Chevrolet Bolt or Hyundai Sonata Plug-In Hybrid.
If you plan on doing a lot of road trips and need more luggage room, the Honda Clarity Plug-In Hybrid has a whopping 15.5 cubic feet. Want more EV range? The Chevy Volt has up to a 53-mile range before its backup engine kicks in to finish your drive.