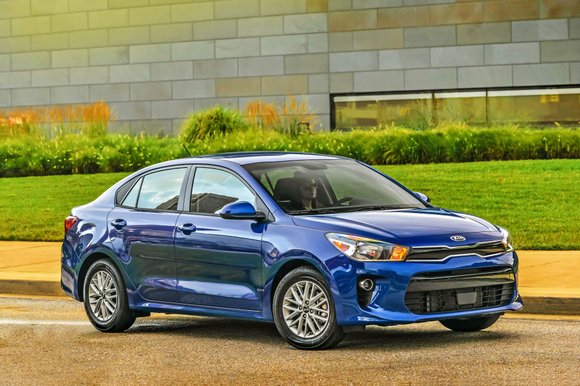 Big on value: Sub-$20,000 cars are often a compromise. Sure, you're getting four wheels, and engine, and a few seats, but rarely is there much else to write home about in these subcompact vehicles. The 2019 Kia Rio flips this concept on its ear with great value built-in. It starts with a roomy cabin but offers an array of available features.
The latter includes a standard 7-inch touchscreen, Bluetooth, a USB port, and a rearview camera. What really adds to the overall value is the S trim, which tacks on just $800 to the base price but adds keyless entry, cruise control, and better infotainment system with Android Auto and Apple CarPlay. While the latter smartphone integrations are not uncommon in this class, they generally come at much higher price points, except in the Chevy Sonic, which offers them as standard equipment.
The Rio also pads its value-oriented status with a slew of advanced safety options, including automatic emergency braking, forward-collision warning, and LED headlights as a part of its $800 S Technology Package, and a class-leading IIHS Top Safety Pick+ rating. Many of its rivals, including the Sonic, Mirage, Fiesta, and Versa, don't offer these features at all. The Honda Fit offers these features and more as a $1,000 option on the base LX trim, and the Yaris has standard automatic emergency braking.
Ample cabin for its class: The Rio's front seats are relatively roomy for its class as its 38.9 inches of head room beats the 37.8 inches in the Chevy Sonic and 38.2 inches in the Toyota Yaris. Its 42.1 inches of leg room is also near the top, easily beating the Yaris' 41.9 inches, the Sonic and Versa's 41.8 inches, and the Fit's 41.4 inches. The Rio's front shoulder room also shines at 54.1 inches, which is 2.4 inches more than the Versa, 1.4 inches more than the Fiesta, 1 inch more than the Yaris, and 0.7 inches more than the Sonic.
Head around back to reveal the Rio sedan's 13.7 cubic feet of luggage capacity that bests the Fiesta by 0.9 cubic feet and the Yaris by 0.2 cubes. Things get less competitive in the hatchback model, as the Rio 5-Door's 17.4 cubic feet of cargo room with the seats up and 32.9 with the seats folded only beats the Fiesta. It comes up short against most others in its class, including the up to 47.7 cubes in the Sonic, 38.3 cubes in the Versa Note, and crossover-like 52.7 cubes in the Honda Fit.
If there is one area to really complain about, its leg room in the back seats. With just 33.5 inches of rear leg room, the 2019 Kia Rio will struggle to haul longer-legged folks. For buyers who plan to haul more cargo or tote around leg-room-sensitive folks, the Honda Fit is a great alternative with its 39.3 inches of rear leg room.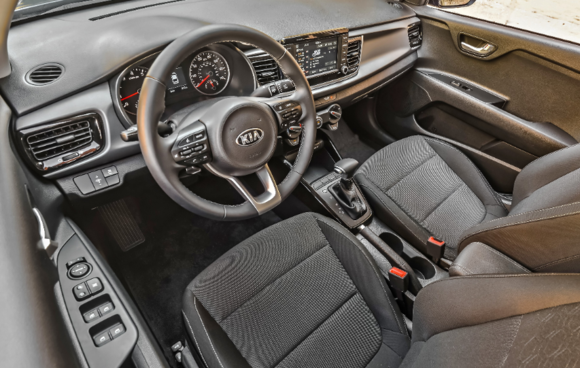 Good comfort and handling: No one will ever call an entry-level subcompact car a great handler or supremely comfortable ride, but the 2019 Kia Rio is one of the best in its class. Much of this ride quality is due to the Rio's commitment to simplicity. It comes standard with 15-inch wheels that are large enough to roll over imperfections in the road but leave enough tire sidewall for cushioning.
Comfort isn't all that the Rio does well. It handles the twisties with confidence too. No, it's not a vehicle you want to push to the limit on a snaking canyon road, but it inspires confidence at moderate speeds. The steering system has a great weight to it, though it lacks any real sense of communication between the road and driver.
Subpar fuel economy: Cars in this class are there for buyers on tight budgets, and this includes saving money at the pump. The 2019 Kia Rio isn't terrible on fuel with its 1.6-liter four-cylinder and standard six-speed automatic transmission delivering 28 miles per gallon city, 37 highway, and 32 combined, but there are plenty of vehicles that top it. For example, the 2018 Mirage sits at up to 39 mpg combined and the 2019 Honda Fit delivers up to 36 mpg combined.
This less-than-stellar fuel economy is mostly due to the Rio's standard six-speed automatic transmission. All the competitors that tower over it in this rating boast continuously variable transmissions, which are notorious fuel-economy enhancers. Once you compare the 2019 Rio to other subcompacts with traditional transmissions, you see similar numbers, like 32 mpg combined in the Sonic and Yaris, and 31 mpg combined in the Fiesta.
Final thoughts: The Kia Rio is a great option for any shopper seeking an inexpensive ride with loads of value built in. With plenty of features and loads of safety tech at a relatively low buy-in prices, this is the best option for the value-seeking buyer.
There are trade-offs, though, and the big one is its subpar fuel economy for the class. Also, we think its lack of a manual transmission option to give the driver a better connection to the vehicle is a bit of a drag.
Looking at the Rio's competition, the Honda Fit crushes it — and everything else in the class — in cargo and passenger room. The Mitsubishi Mirage dominates in fuel economy, and the Chevy Sonic's torque-happy turbocharged four-cylinder engine gives it zippier acceleration.