The quirky five-door 2019 Kia Soul carries on largely unchanged, with the same trio of gasoline engines and in pure-electric Soul EV form (covered elsewhere). Beyond being a bit odd for attention's sake, the Soul's boxy body gives it the ability to seat up to five or carry 50 cubic feet of cargo. And with up to 201 horsepower on tap, this anti-crossover has pace to match its space.
What's New for 2019
A five-inch touchscreen with a backup camera display, automatic headlights, and voice recognition capabilities are now standard on all Souls, and a new color – Inferno Red – joins the Base's palette. As these changes aren't cheap, Kia has raised Soul prices across the board.
Choosing your Kia Soul
The primary difference between Soul trim levels is their available engine and transmission combinations. All Souls feature direct-injection inline-four-cylinder engines with front-wheel drive, though each is different and only the Base Soul have a manual transmission.
The six-speed manual is mated to a 1.6-liter inline-four with 130 hp and 118 pound-feet of torque, with the combo earning EPA fuel economy ratings of 24 miles per gallon city, 30 mpg highway, and 27 combined. A six-speed automatic tranmission that boosts fuel economy to 26/31/28 mpg (city/highway/combined) is available for $1,700.
The same automatic is included in the mid-level Plus trim, only it's bolted to an embiggened 2.0-liter four-cylinder engine with 161 hp and 150 lb-ft of torque. This combination achieves 25/30/27 mpg, according to the EPA.
The best of both worlds is available in the Soul Exclaim. Kia slapped a turbocharger on the 1.6-liter motor and hooked it to a seven-speed dual-clutch automatic transmission, creating a combo that ups the Soul's output to 201 hp and 195 lb-ft and keeps EPA numbers at 26/31/28 mpg – the same as the automatic-equipped Base model.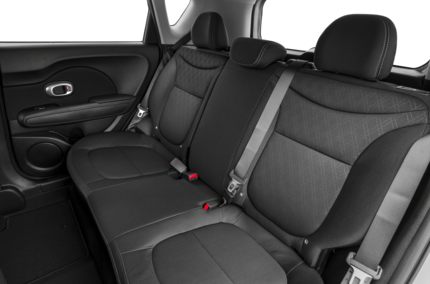 CarsDirect Tip
A 2019 Kia Soul Exclaim with every option rings the register at $27,930, or $500 more than its better-equipped but less sporty Plus sibling. So, if you're looking at getting a Soul with all the gear in and on it, it comes down to choosing between speediness and the electronic safety suite. As all Souls come decently equipped, there's no suffering involved when sticking with the manual-equipped Base.