The 2019 Kia Sportage continues to offer euro-sporty styling and an impressive feature list. However, efficiency and value are lacking when stacked up next to its rivals.
What's New for 2019
The 2019 Kia Sportage receives no significant updates over last year's model.
Choosing Your Kia Sportage
The Sportage is available in three trim levels: LX, EX, and SX Turbo.
The Sportage, which last saw a full redesign in 2017, maintains a body that's primarily formed with high-strength steel, utilizes an improved suspension layout, and features an interior that offers soft-touch materials and a stitched dash. With the goal of pushing the Sportage onward and upward in the marketplace, the compact crossover features a wide range of available features and thus price.
A 2.4-liter four-cylinder engine is standard equipment on the base LX and mid-level EX. Delivering 181 horsepower and 175 pound-feet of torque, this non-turbocharged engine comes standard with front-wheel drive and can be had with all-wheel drive across all trims for $1,500.
The SX Turbo, as the name implies, receives a more powerful, turbocharged 2.0-liter four-cylinder that pumps out 240 hp and 260 lb-ft through the front wheels without having to rev the engine – peak figures are maintained from 1,450 to 3,500 rpm. The same advanced AWD system is also available at the same cost, while a six-speed automatic transmission is standard with either engine.
Fuel economy figures vary with each trim level and drivetrain. The front-wheel-drive LX is the most efficient, achieving an EPA-estimated 23 miles per gallon city, 30 mpg highway, and 25 combined. In comparison, the EX trim suffers one mpg in both city and highway driving. The AWD EX achieves 21/25/23 mpg (city/highway/combined), while the base LX gets 21/25/22 mpg.
The SX Turbo drops these figures significantly. The FWD version achieves 21/26/23 mpg while the AWD SX Turbo gets 20/23/21 mpg. For comparison, Ford's similarly powered turbocharged Escape achieves two mpg higher in the combined cycle.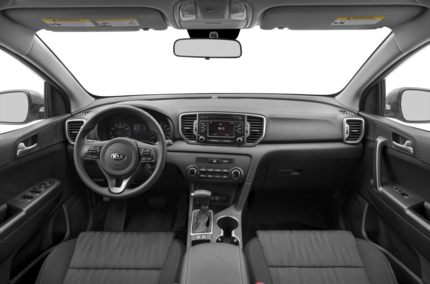 CarsDirect Tip
The 2019 Kia Sorento becomes pricey very quickly – automatic emergency braking requires breaking the $30,000 mark. Focusing on this car's strengths, the EX with the Appearance Package brings out this car's inner euro-sport styling and includes today's expected modern conveniences, making it a good stating point.