Featuring a subtle exterior redesign, the 2019 Lexus LX continues to be a solid option for consumers looking for an upscale SUV. Starting at $87,125 (all prices include the $1,295 destination charge), the LX is an easy vehicle to configure. It's available in only LX 570 form as a two- or three-row SUV, with a single powerplant option, and with just a few package upgrades.
What's New for 2019
The 2019 Lexus LX received a fresh exterior enhancement for the new model year. We wouldn't go so far as to call it a complete redesign, because, quite frankly, the cosmetic improvements are minor at best. The new LX 570 gains a few visual and technological enhancements with lighting, offers 20- and 21-inch wheels, and a larger grill and aggressive bumper.
Choosing Your Lexus LX
If you're a consumer that hates multiple trims and upgrade packages, you'll love the Lexus LX. Selecting your new 2019 Lexus LX 570 breaks down to whether you prefer a two- or three-row SUV. There are no sub-trim levels and it's only offered with all-wheel drive.
Each Lexus LX 570 is powered by a 5.7-liter V8 engine that produces 383 horsepower and 403 pound-feet of torque. Power is delivered to the standard AWD via an eight-speed automatic electronically controlled transmission. The EPA-estimated fuel economy comes in at 13 miles per gallon in the city, 18 mpg on the highway, and 15 combined.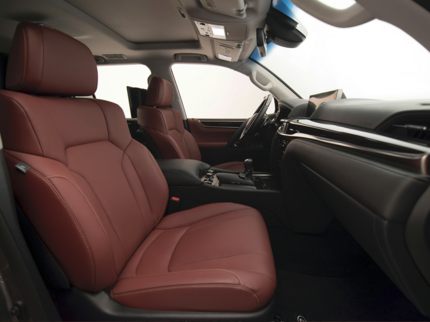 CarsDirect Tip
The 2019 Lexus LX is comparable with others in the luxury SUV segment. Choosing one really comes down to your needs and family size. The Three-Row offers consumers with extra room for a $5,000 price bump.