First things first: no, the Lexus RC coupe isn't a remote-controlled freebie salesmen give to overactive children tagging along with daddy and mommy on car buying weekend. It's instead something that's probably a bit more disappointing to the tots and a lot more tempting to the adults: a legitimately sporty two-door sports coupe. It might not have the same star power as a BMW or Mercedes-Benz two-door, but the RC certainly has the visual punch to make it a curbside celebrity and the performance to back it up, at least in V6 or V8 guise.
What's New for 2019
For 2019, Lexus makes a handful of subtle tweaks to their svelte mass-market coupe. Mechanically, all RCs benefit from stiffer bushings and new shock absorbers. Cosmetically, there's a new mesh-patterned grille and restyled taillights, while the interior benefits from a reshaped glove box that allows the front passenger slightly more room than last year's model. Triple-beam LEDs are now optional, as is a salacious new color dubbed Blue Vortex Metallic.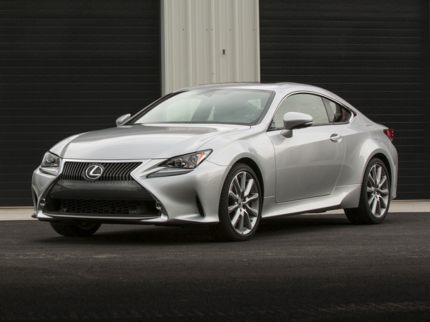 Choosing Your Lexus RC
While all RC models look the part of the sporty coupe, the powertrain and trim level determine how true that actually is. Base model RC 300s use a 2.0-liter turbocharged four-cylinder engine. With only 241 horsepower on tap, it represents the powertrain best suited for grand touring rather than aggressive lapping. An eight-speed automatic transmission helps propel the rear-wheel-drive model to 60 mph in 7.3 seconds. As expected, the tiny four is the thriftiest of the three available engines when gas mileage is concerned, with the EPA estimating it to return 21 miles per gallon city and 30 highway.
The RC 300 is also offered with all-wheel drive; if optioned as such, the powerplant is upgraded to a detuned version of the 3.5-liter V6 found in the RC 350. This motor has been hanging around the Lexus stable for a good long while now, and yet it hardly seems to show its age. Power in the AWD RC 300 stands at 260 hp, and a six-speed automatic usurps the eight-speed unit found paired with the four-cylinder. In RC 350 guise, total ponies jumps up to 311, which is enough to shove the RC to 60 mph in 5.8 seconds. Gas mileage for the 311-hp variant stands at an EPA-estimated 19 city and 28 highway.
While the four- and six-cylinder engines are sane, rational choices, the blustery RC F is anything but. Lexus engineers figured a way to stick a 5.0-liter V8 under the hood of the flagship F, and the resulting 467 hp gives the RC a new personality. The zero-to-60 mph time comes in at 4.4 seconds and terminal velocity is reported to be 168 miles an hour. It's only available in rear-wheel drive and uses an eight-speed automatic.
The RC F is as pure in its mission for speed as a full-boat M or AMG car, but the lower-trim models can be built for luxury or sportiness depending on the whims of the buyer. If the latter is the end goal, the F Sport sub-trim is a must. More than just a sticker package, mechanical upgrades includes upgrades like retuned power steering, adaptive dampers, larger 19-inch wheels on sport tires, and an additional Sport Plus driving mode. Exclusive F Sport options include a limited-slip differential, orange brake calipers, and rear-wheel steering with variable gear-ratio steering. The contents of the $1,240 Premium Package are included here as well: that means F Sport buyers also will be getting heated and ventilated seats, electrochromic outside mirrors, and blind-spot monitoring with rear cross-traffic alert. A RWD F Sport is an additional $4,105 over an equivalent rear-wheel-drive non-F, and it's $,3,700 to upgrade an AWD model to F Sport status.
To keep on top of the market push toward more inclusive safety features, Lexus offers their suite of active-safety features, dubbed Safety System Plus, as standard. Featured technology within the suite includes adaptive cruise control, lane departure alert, forward collision warning with automatic emergency braking and pedestrian detection, and intelligent high-beam headlights.
The base seven-inch touchscreen offers the expected connectivity as well as the full suite of Lexus's Enform cloud-based apps, but the best option for the tech-savvy buyer is to upgrade to the 10.3-inch unit optionally available across the range. Besides the extra pixels, it boasts voice-activated navigation, subscription-free traffic and weather updates, and split-screen functionality. It pairs well with the also-available 17-speaker Mark Levinson audio system that offers an impressive acoustical experience for even the most discerning audiophile.
A number of available standalone extras are on tap for those craving a bit more luxury. These include blind-spot monitoring with rear cross-traffic alert ($600), intuitive parking assist ($500), and triple-beam LED headlights ($1,160). An All-Weather Package costs $220 and bundles headlight washers, a windshield wiper de-icer, water-repellent front-door glass, and a fast-responding interior heater. The $2,725 Navigation with Mark Levinson Audio Package bundles, well, the navigation system (housed in the upsized 10.3-inch screen) with the sound system. The Navigation Package is also available separate of the audio system; it costs $1,645.
There are 10 exterior colors and three interior colors making up the color palette of the RC; three of those are exclusive to F Sport models.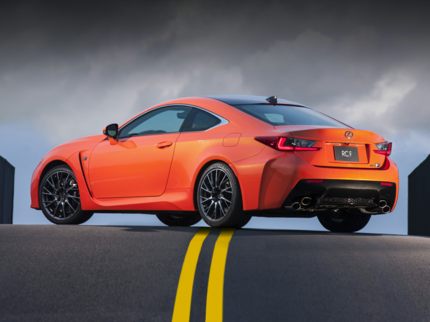 CarsDirect Tip
The RC 350 in F Sport guise is the ripest fruit on the 2019 Lexus RC tree. The added performance of the gutsy 3.5-liter V6 marries nicely with the suspension and hardware upgrades of the F Sport. It also lets you plunk down $1,900 for the nifty rear steering setup if you feel so inclined, though we'd be happy enough without it. Compared to the lesser-engined RC 300, the additional cash for a 350 F Sport is well worth it.