Bold design. Lexus' modern lineup bears little resemblance to the conservatively-styled cruisers of its past. Taking up the mantle, the all-new 2019 Lexus UX is distinctively modern – a compact crossover that flaunts dramatic and playful lines, while being garnished with plenty of slits and creases.
The new look may be polarizing, but it's not bad in our eyes. We appreciate automakers that take aesthetic risks, and the striking body is enough to make bystanders look twice.
It begins up front with a bold spindle grille, narrow headlight enclosures, and a pair of aggressive faux brake ducts that house small LED fog lights. Sharp creases and deep lower sculpting keep things interesting along the sides, while brash, finned taillights that span the entire width define the rear fascia.
Smooth ride, hardly sporty. Those who worry that Lexus has abandoned its essence should be reassured. Despite racy looks, the Lexus UX delivers a smooth and comfortable ride. Even on run-flat tires, the UX absorbs bumps and city streets with the grace we've come to expect from Toyota's luxury brand.
In addition, both powertrains – a 169-horsepower gas engine and a slightly more powerful hybrid – are refined. Fuel economy is excellent: the gas-powered UX 200 is good for an EPA-estimated 29 miles per gallon city, 37 mpg highway, and 33 combined, while the hybrid achieves 43/41/42 mpg (city/highway/combined), thanks in part to a sophisticated regenerative braking system.
Although it rides nicely, a sporty drive is clearly not the UX's first priority, while neither version delivers much power to the road. Both powertrains use a variation of a continuously variable transmission, which simulates shifts well, but also mutes the experience.
In addition, Sport mode, which is offered on the F Sport and features the most aggressive "shift" programming, can be programmed to pipe in additional engine sounds that are more annoying than sporty.
Finally, all-wheel drive is only available on the hybrid, while despite being light on power, the UX is hardly a lightweight, as the base model checks in at more than 3,600 pounds and the hybrid is even heavier.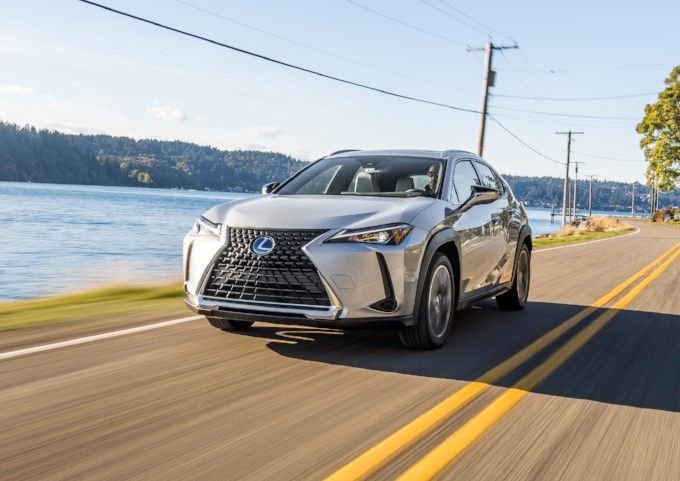 Bite-sized but accommodating. As a luxury compact crossover, the Lexus UX is up against rivals like the BMW X1, Mercedes-Benz GLA-Class, and INFINITI QX30. Like those vehicles, it's less spacious (and less expensive) than the brand's larger crossovers and SUVs, but the UX still manages to pack a lot into a small space.
Rear seat leg room is impressively good; four adults can ride in comfort. There's 21.7 cubic feet of space available behind the rear seats (less in the hybrid), which is above average compared to rivals. Interior storage is just as strong, with plenty of cup holders and useful nooks.
But while the rear seat is surprisingly roomy, the accommodations in back aren't nearly as nice as those up front, such as the hard, plasticky door panels.
Safety first. The small Lexus crossover distances itself from much of the competition with a strong suite of active safety tech, helping the UX achieve a five-star overall safety rating with the NHTSA. At the same time, models built after June 2019 equipped with triple beam LED headlights earn a Top Safety Pick Plus score with the IIHS.
Forward collision warning, automatic emergency braking, automatic high beams, adaptive cruise control, lane keeping assist, and traffic sign recognition are all standard on every Lexus UX. The only add-ons are blind-spot monitoring and parking assist.
Where some competitors put features like adaptive cruise control in pricey option packages, we appreciate that Lexus includes so much of this important tech as standard equipment.
Final thoughts. It may be a little late to the compact crossover party, but the 2019 Lexus UX is a fitting contender. It stays true to Lexus' personality while offering a much-needed entry point into the brand.
That said, the UX's competition is stiff. The German brands offer sportier handling and more powerful engines. The Volvo XC40 is charming and polished, with a much more impressive interior for around the same price.
The UX looks like value against some luxury competitors, but with mainstream crossovers like the Mazda CX-3 looking more premium every year, it may not be the best bargain out there.
The real takeaway is that luxury shoppers are now spoiled for choice. If you're in the market for a pint-size runabout with a fancy badge, you'll find options to suit many personalities. For the right buyer, the UX ought to be on the short list.