Legit luxury SUV. Back in 2018, the Lincoln Navigator went through a huge redesign that brought in a new, more stylish look, and a potent twin-turbocharged V6 engine. The 2019 Lincoln Navigator is a carryover model, but it remains an impressive luxury SUV.
Those last two words, "luxury SUV," are the most important part of the Navigator. Like many Lincoln models, the Navigator has long struggled with being identified as a dressed up Ford Expedition that failed to draw in many true luxury buyers. While it still shares some bits with the Expedition, the 2019 Navigator's break from Ford is clean and will leave buyers impressed. Most buyers can now look to it as a legitimate alternative to the BMW and Mercedes-Benz SUVs clogging up parking garages.
Power in gobs. With Lincoln scrapping the old V8 powerplant, some buyers may expect a big downturn in potency from the new Navigator, but it did the opposite. This twin-turbo 3.5-liter V6 engine pumps out 450 horsepower and 510 pound-feet of torque. This gives it a 50 hp and 30 lb-ft increase over the Ford version of this engine, creating another big break from the Expedition.
This power flows smoothly through a 10-speed automatic transmission that delivers tight and precise shifts. This adds up to a zero-to-60 time in what we expect to be in the sub-six-second range.
Unmatched levels of comfort. Lincoln put serious time and thought into the 2019 Navigator's comfort, and it all panned out. The front seats strike the perfect balance between soft and supportive, making long-haul trips a breeze on the backside, and the 30-way adjustable front seats in the Black Label trim add to the Bentley-level feel of this range-topping trim.
The comfort doesn't stop up front either. The standard second-row captains chairs handle larger occupants with their 41.1 inches of leg room, 65.1 inches of shoulder room, and 40 inches of head room. Even the third row is roomy with 42.3 inches of leg room, 64.2 inches of shoulder room, and 37.3 inches of head room. The Navigator's competitors can't come close, especially in leg room. The Escalade delivers just 39 inches of second-row leg room and 24.8 inches of third-row leg room. The INFINITI QX80 also comes up short with just 41 inches of second-row leg room and 28.8 inches of third-row leg room.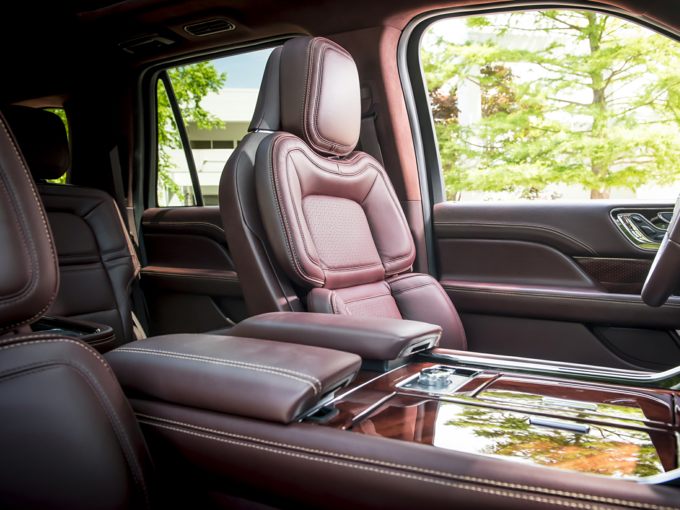 Haul it all. Large SUVs often pull double duty: hauling passengers and cargo. The 2019 Navigator can do both in style and with competitor-crushing cargo-hauling numbers to match its roomy seating arrangements.
In its cargo area, the Navigator can tote up to 20.9 cubic feet of cargo with all three rows of seats upright, beating the Cadillac Escalade and INFINITI QX80 by 4.8 and 0.6 cubes, respectively. Fold the third row and expose up to 57.5 cubic feet of cargo room, which beats the Cadillac Escalade and INFINITI QX80 by 5.9 and 8.4 cubes, respectively. With all the seats folded, the 2019 Navigator swallows up to 103.3 cubes of cargo, beating the Cadillac Escalade and INFINITI QX80 by 9.1 and 8.2 cubes, respectively.
On the downside, all this extra space has to come from somewhere, and that "somewhere" is a significantly larger body than its competition. At 210 inches long, the 2019 Navigator 6.1 inches longer than the Escalade, 10 inches longer than the Lexus LX, and eight inches longer than the Mercedes-Benz GLS-Glass. This added length can make maneuvering through traffic and parking a much tougher task.
If you have something too large for the cargo area, the Navigator also makes a great tow vehicle with an 8,700-pound towing capacity with two-wheel drive. This beats the Escalade by 400 pounds and the QX80 by 200 pounds.
Final thoughts. The 2019 Lincoln Navigator finally puts a firm break between it and its donor Ford Expedition, giving luxury buyers a large, luxurious SUV they can show off with pride. And with its potent twin-turbo V6 and Bentley-level-equipped Black Label trim, showing off is all you'll want to do in this rig.
But the 2019 Navigator goes beyond being just a great luxury SUV, it's also a great family hauler with its spacious rear seats, gobs of cargo room, and 8,700-pound competitive towing capacity. Watch the price tag, though. The 2019 Navigator can shoot into BMW and Mercedes territory in a hurry as you add options.