Gorgeous styling. Exceptionally stylish and alluring for a crossover, the 2019 Mazda CX-9 outshines every other vehicle in its class – mainstream or luxury and domestic, Japanese, or German.
It starts up front with a large, aggressive version of Mazda's signature five-point shield grille set into the fascia, sporting large, horizontal bars, and flanked by narrow headlight housings. Unlike most crossovers, not a straight line can be seen, as the sporty silhouette features crisp, sensuous, and sculpted lines, with either 18- or 20-inch wheels filling the arched housings.
LED headlights and taillights are standard, with Grand Touring and Signature models adding adaptive front lighting, LED fog lights, a glass sunroof, aluminum roof rails, and chrome lower moldings up front, along the sides, and in back.
Luxurious interior. The interior is equally stunning. Belying its modest $33,325 base price, even the Sport model offers class-above materials, from finely-grained plastic trim and soft-touch surfaces to the silky-smooth feel of the switchgear. The seats could use more padding as they're somewhat firm for American tastes, but they're nicely bolstered, and still manage to offer all-day comfort in our experience.
Moving up to the Touring trim – our pick as the best buy in the lineup – swaps the Sport's cloth seats for leather in the first two rows and heats them up front. Front chairs are also cooled in Grand Touring and Signature models, with the Grand Touring featuring real aluminum trim. The sybaritic Signature model swaps that out for Santos Rosewood along with Nappa leather seating.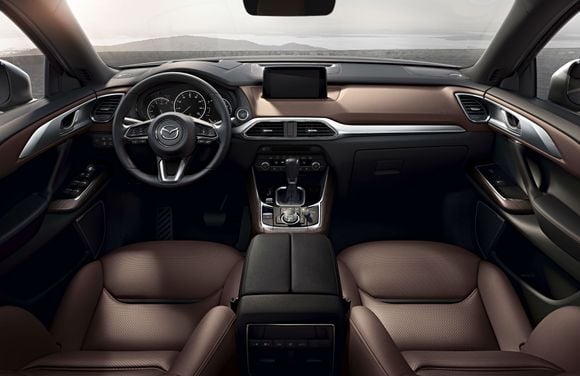 Small spaces. But much of the goodness ends at the second row. Third row occupants, which should be limited to small children, are faced with a mere 30 inches of leg room, 40 inches of hip room, and 35 inches of head room.
At the same time, cargo space pays a penalty for the CX-9's descending roofline where, with the third row up, a mere 14 cubic feet is available, with the vertical space for items limited by the steeply raked back glass. Fold the third row - a move that we suggest should be more or less permanent – and storage space increases to 38 cubic feet. With the second row down, up to 71 cubic feet of storage space is available.
Kludgy infotainment. First the good news: Mazda has taken a step toward improving the infotainment experience by making Apple CarPlay and Android Auto standard on all but the Sport trim – yet another reason to choose the Touring model. While we applaud the effort, there are still issues that need to be addressed.
To begin with, for some unknown reason, the display screen isn't touch-sensitive, which means users are entirely dependent on a clickable dial. In addition, the software, with its various menus and sub-menus, is hardly user-friendly. Entering station presets requires patience and multiple references to the owner's manual, while choosing between the convoluted OEM navigation system and Apple Maps is a no brainer. Enough said.
Smaller is sometimes better. Like all Mazdas, performance is central to the CX-9's character. Despite being down a pair of cylinders compared to many rivals, the 2.5-liter four-cylinder features Dynamic Pressure Turbo technology that allows for a quicker response below 1,500 rpm than a twin-scroll turbocharger, a maximum 310 pound-feet of torque at a very usable 2,000 rpm, and 227 horsepower using regular gasoline that rises to a more competitive 250 hp with premium.
Using a turbo-four also benefits fuel economy, which stands at an EPA-estimated 22 miles per gallon city, 28 mpg highway, and 24 combined. Most contenders in the class only manage to return city mileage in the high teens and highway mileage in the mid 20s.
At the same time, despite the turbo's willingness, acceleration feels hindered by the CX-9's aging six-speed automatic transmission at times.
Final thoughts. Hardly perfect, the 2019 Mazda CX-9 loses points for middling cargo capacity, an inadequate third row, and a frustratingly complex infotainment system. At the same time, a strong engine, near-luxury interior, and a stunning design bring a sense of style and exclusivity to the mainstream crossover segment.
Looking at the competition, the Chevrolet Traverse's third row offers 33.5 inches of leg room, 48.5 inches of hip room, and 38 inches of head room, while the Honda Pilot offers 32 inches, 45 inches, and 39 inches, respectively.