The 2019 Mercedes-Benz C-Class has just undergone a major facelift, with an updated look, more power, and a fantastic interior. Putting an emphasis on technology and style without sacrificing performance, the C-Class continues to be a top choice in the compact luxury sedan segment.
What's New for 2019
Mercedes has undergone a comprehensive redesign. The base engine remains the same 2.0-liter four-cylinder turbocharged motor, but it has had the power increased by 14 horsepower. They've also made a number of style changes, including new front and rear bumpers, 64-color ambient lighting, new upholstery and paint choices, and LED headlights and taillights.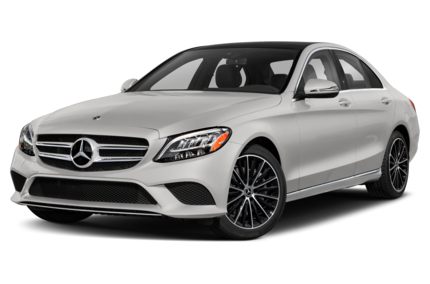 Choosing Your Mercedes-Benz C-Class
The C-Class range is deep and wide, mostly separated by body style (it's available as a coupe, cabriolet, and sedan) and engine choice. The base engine in the C300 is a 2.0-liter turbocharged four-cylinder that puts out 255 horsepower and 273 pound-feet of torque. The AMG C 43 is given a twin-turbocharged 3.0-liter V6 that's been tuned by AMG to make a healthy 362 hp and 384 lb-ft of torque. Both of these models make use of a nine-speed automatic transmission.
Cranking it up a notch, the AMG C 63 receives another couple of cylinders in the form of a handcrafted twin-turbocharged 4.0-liter V8 with 469 hp and 479 lb-ft of torque, and if that's not enough the AMG C 63 S has that V8's power turned up even more to 503 hp and 516 lb-ft of torque. In order to best use this power, the C 63 and C 63 S use a fast shifting seven-speed dual-clutch automatic. If you feel the need for speed, the C-Class has you covered.
Of these variants, the C300 offers all-wheel drive as an option, while the AMG C 43 comes with it standard. The C 63 and C 63 S are both rear-wheel drive, and won't hesitate to convert their tires into smoke.
CarsDirect Tip
Of the 2019 Mercedes-Benz C-Class lineup, the AMG C 63 is an impressive piece of machinery, while the AMG C 43 offers a ton of performance and luxury at a pretty reasonable price. Additionally, the C 43 is much more suited to everyday driving, as it's able to apply its power more effectively than its more powerful brethren.