The Mercedes-Benz E-Class represents the breadth of the marque's excellence. It doesn't matter which body style is chosen, or which powertrain is preferred. In all of its many iterations, the versatile E-Class seems to exude the defining qualities that give the Mercedes reputation a firm ground to stand on.The 2019 Mercedes-Benz E-Class benefits from numerous updates designed to keep this perennial favorite ahead of jealous competitors.
What's New for 2019
Buyers will be happy to learn that more power has been coaxed out of the mid-level twin-turbocharged V6 models for 2019. The 33 additional horsepower and extra 15 pound-feet of torque means that total output stands at 362 horses and 369 lb-ft. Mercedes seems to think that the extra oomph is worth a name change, as an E 450 moniker can now be found where the old E 400 trunk badge used to be.
There's also a bit of nameplate chicanery on the performance side of things. Prior to this year, the AMG E 43 had been the milder of the two AMG-spec models. Now, to keep sufficient breathing room between the mass-market V6 and the AMG-infused cars, a new AMG E 53 model usurps the old E 43. With a freshly-minted straight-six engine, a bevy of performance enhancements, and a stout 429 hp, it's an attractive alternative to the six-figure AMG E 63.
Choosing Your Mercedes-Benz E-Class
The choice begins with body style – there's a traditional sedan, long-roofed wagon, slick coupe, and sun-seeking convertible. Engines can be had with four, six, or eight cylinders, depending on your cash reserves and penchant for excess horsepower. Whatever you pick, no one variant is any less distinctive than the others.
Probably the most interesting standard feature is the built-in car-to-x communication technology. This taste of tomorrow sends warnings about hazards or traffic conditions to a central notification system that then relays the information to other cars with this technology. Right now, it's more gimmicky than useful. But the future is coming faster than we might think. As this kind of technology becomes more widely adopted, it has the potential to save drivers a lot of stress and heartache.
All E-Class models offer an optional Burmester sound system with 13 speakers and 590 watts. If that's not enough, a 23-speaker, 1,450 watt High-End 3D sound system also can be found on the options sheet. It's $5,400, but consider it a must-have if you want to hear every last bit of sound from your favorite songs. Other tech that has widespread availability includes a $990 head-up display, $440 power rear sunshade, and an $850 12.3-inch digital instrument cluster.
There's a million and one packages on tap for the E-Class. The $800 Exterior Lighting Package includes LED lights with active-curve technology and adaptive high-beam assist. A Warmth and Comfort Package brings rapid-heating front seats, heated front armrests, and a heated steering wheel. The Driver Assistance Package is $2,250 and includes all the active-safety features you can think of: adaptive cruise control, evasive steering assist, blind-spot monitoring, lane keeping assist, lane-change assist, and automatic emergency braking are all included in this worthwhile package. The $1,290 Parking Assist Package makes finagling into tight spaces a little easier with rear cross-traffic alert, a surround-view camera system, and active parking assist. A number of packages that offer distinct exterior trimmings or interior bits are also available, as are packages with additional cloud or concierge services.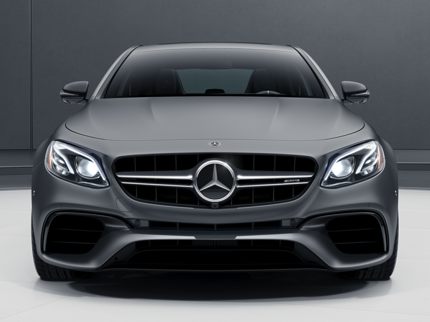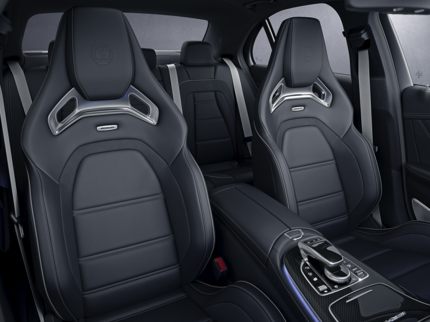 CarsDirect Tip
If you don't want to swing for a full-bore AMG, the E 450 is the way to go in the 2019 Mercedes-Benz E-Class lineup. There's plenty of power to complement the luxurious fittings expected of a Mercedes, and the $60,000 price tag isn't unreasonable, either. When it comes to a well-rounded luxury car, it's hard to beat the E 450.