Although you wouldn't know it from the exterior, the 2019 Mercedes-Benz G-Class is a landmark redesign. The pricey, boxy SUV has enjoyed both cult fame and widespread derision, but in a history spanning nearly four decades, the G-Class never got a full makeover. The result? The flagship SUV is just as flamboyant, newly modern, and even more capable off-road – if you can afford the staggering price of entry.
What's New for 2019
The G-Class is (finally) all-new for 2019. Only five parts are shared with the outgoing model: the door handles, spare tire cover, sun visors, headlight nozzles, and an under-hood bracket.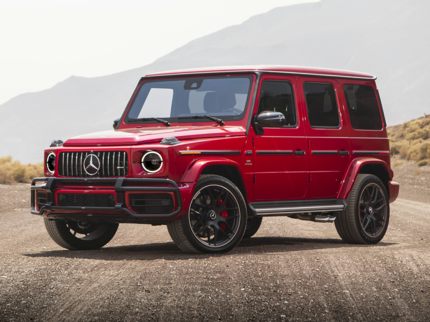 Choosing Your Mercedes-Benz G-Class
Although the outgoing G-Class boasted three trims with three different engines, the 2019 lineup has been simplified (to start, at least). Just two trims remain, both using the same engine with different tunes.
That engine is a doozie. Even in base form, the 4.4-liter twin-turbocharged V8 packs 416 horsepower and 450 pound-feet of torque. After Mercedes' go-fast AMG department gets their hands on it, those numbers jump up to 577 hp and 627 lb-ft. A nine-speed automatic transmission replaces 2018's seven-speed.
All 2019 G-Wagons ship with Mercedes' suite of safety tech. Features include automatic emergency braking, adaptive cruise wontrol, blind-spot monitoring, traffic sign recognition, lane keeping assist, parking assist, a rearview camera, adaptive high beams, and rain-sensing windshield wipers.
One of the biggest changes to the 2019 G-Class comes in the ride. Instead of a live axle, the front wheels now boast independent suspension. Three differential locks shuttle power where it's needed, and ground clearance is 9.5 inches across all trims. The new G-Class is also 2.1 inches longer and 2.5 inches wider, resulting in an extra 1.5 inches of leg room in the front and 5.9 inches in the rear. Despite the size gains, the new G-Class is 375 pounds lighter than the outgoing model.
Traditionalists needn't fear – fuel economy is still abysmal. Even the base-spec G-Class manages just an EPA-estimated 13 miles per gallon city, 17 mpg highway, and 14 combined. Mercedes compensates by installing a massive 26.4-gallon gas tank, but G-Class owners should be prepared to spend a small fortune at the gas pump.
That's on top of the fortune already spent just to buy a G-Class. Features are divided across two trims, neither of which are cheap:
CarsDirect Tip
Although the AMG versions usually outsell the G 550, we'd stick with the base trim here. The G 550 is luxurious by any standards, and no amount of AMG tuning will overcome the G-Class' high ride height and body-on-frame construction. This is a vehicle that celebrates appearance more than performance.