The Mercedes-Benz GLC-Class isn't your typical luxury SUV. Two body styles are offered, including a traditional SUV and a Coupe design. The GLC excels in comfort, quality, and safety, but fuel economy is its weakest link.
What's New for 2019
The 2019 Mercedes-Benz GLC-Class returns with only minor changes.
Choosing Your Mercedes-Benz GLC-Class
The standard engine for the GLC 300 is a turbocharged 2.0-liter four-cylinder with 241 horsepower and 273 pound-feet of torque. The SUV comes with standard rear-wheel drive or available all-wheel drive (4MATIC, in Mercedes-Benz parlance). The coupe is all-wheel drive only. In both cases, power is sent to the wheels with a nine-speed automatic transmission.
The GLC 350e adds an electric motor to the base engine to form a plug-in hybrid. This one comes with a seven-speed automatic transmission, but the net gain in fuel economy is minuscule. The four-cylinder achieves an EPA-estimated 22 miles per gallon city, 27 mpg highway, and 24 combined, while the GLC 350e gets 25 mpg combined when it's running on gasoline.
As for the AMG GLC 43, this all-wheel-drive model comes with a twin-turbocharged 3.0-liter V6 engine making 362 hp and 384 lb-ft of torque. The AMG GLC 63 is the performance master of the class, making 469 hp and 479 lb-ft of torque with a twin-turbocharged 4.0-liter V8 engine. But that's not all – if you choose the AMG GLC 63 S variant, power mushrooms to 503 hp and 516 lb-ft of torque. All AMG GLC 63 models come with a limited-slip differential, although the in the GLC 63s it's electronically controlled for faster performance transfer.
The GLC-Class seats up to five. It has top-notch crash scores and comes with a full suite of power features. Every model also has Bluetooth with audio streaming. To get features such as Apple CarPlay and Android Auto, you'll pay $350 for what's included on many mainstream models. Go figure.
Mercedes-Benz always offers multiple package options across its model line. The GLC-Class is no exception. These packages cover lighting, multimedia, driver assistance, leather seating, and an AMG Line. You may find a slight variation in package offerings and price between the two body styles. Our examples cover the SUV.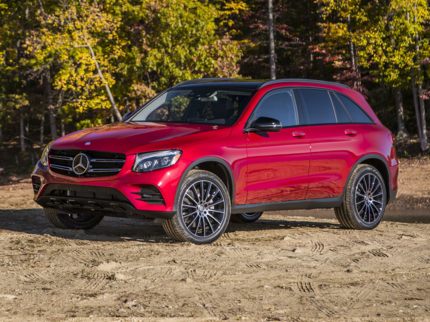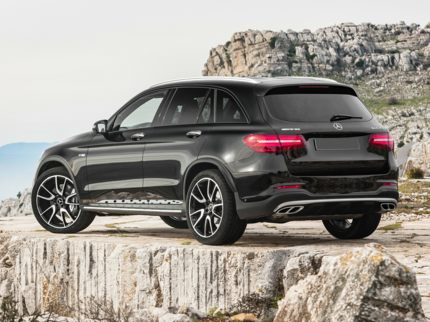 CarsDirect Tip
If you're shopping for a mid-size luxury SUV with acceptable performance, the GLC 300 gets it done from the 2019 Mercedes-Benz GLC-Class. The Coupe version encroaches on head room and reduces storage space, so it isn't ideal for carrying five adults, while the hybrid doesn't yield the efficiencies to justify consideration.