The Mercedes-Benz S-Class occupies a special place in that strange and wondrous overlap between automobiles and social strata. For years, it's been the choice of heavy hitters from all walks of life, from mafiosos and Russian oligarchs to diplomats and heads of state. It's as recognizable as the three-pointed star itself, and represents an exclusive upper echelon of existence. Available in a number of body styles and trims, the 2019 Mercedes-Benz S-Class lineup is as diverse and indulgent as its well-heeled buyer pool.
What's New for 2019
A new hybrid plug-in sedan dubbed the S 560e is now part of the roster. Coupe and convertible models get taken into the powder room for quick facelift, while top-shelf Maybachs get a new grille and a variety of new two-tone paint schemes.
Choosing Your Mercedes-Benz S-Class
Those buying a car with the pedigree and price tag of an S-Class can be a demanding and discerning bunch. To appease their varied whims and wants, Mercedes offers their flagship sedan in a almost startling number of body style and powertrain combinations.
Sedans are the most common of the available body styles. The old "same sausage, different length" trope that's been beaten to death in regards to German sedans is literally true in this case, as two different wheelbases are available. The standard-length models use a 124.6-inch wheelbase and measure out to about 207 inches bow to stern. Long-wheelbase models are another eight inches longer on both counts. Only the S 560 models are offered in both wheelbases; Maybachs are exclusively on the longer one, while S 450 models make do with the shorter.
For a bit more flash, try the coupe or convertible. Compared to the upright and reserved sedan, the two-doors unabashedly cater to the new-money set – there's nothing subtle about the swooping roofline or the exaggerated proportions.
Building a car for the world's movers and shakers is as much about opulence and luxury and as it is about quality and performance. To that end, Mercedes offers their flagship with options ranging from mild to lavish. For the most part, these extras are broadly available, so you don't need to splurge on an S63 to get that one specific package you're hankering for. Top-spec Maybach variants come with almost all options as standard.
Of the various packages, there are few that are more notable than others. The Premium Package is $5,000 and includes active front-massaging seats, heated and ventilated front seats, keyless start and entry, active park assist, a surround-view camera, and power rear-window sunshades.
For $2,250, buyers can get nearly every active-safety feature in existence with the Driver Assistance Package. It brings adaptive cruise control, forward collision warning, lane keeping assist, automatic emergency braking, rear cross-traffic alert, blind-spot monitoring, lane change assist, extended restart in stop-and-go traffic, automatic speed takeover, and route-based speed adaptation.
A Warmth and Comfort Package costs $2,600 and includes heated and cooled rear seats, heated armrests, a heated steering wheel, and power-adjustable rear seats. An Executive Rear Seat Package is $3,500 and includes massage functionality for the rear seats and an executive right rear seat that pushes the front passenger seat forward to maximize comfort and space for right rear passengers. An Executive Rear Seat Package Plus enhances things with four-place seating, rear tray tables, and heated and cooled cupholders for $1,950; it requires the purchase of nearly every other available package.
There are six trims in the S-Class lineup: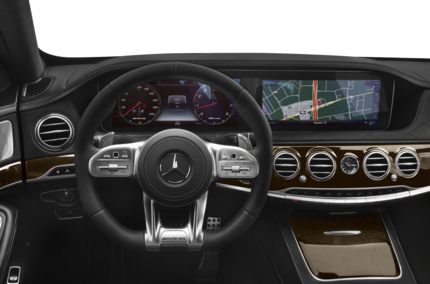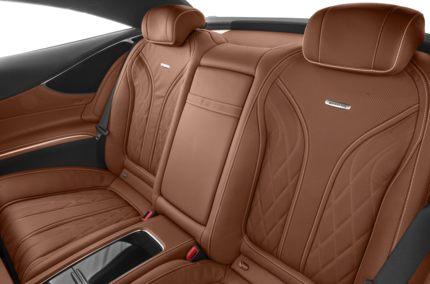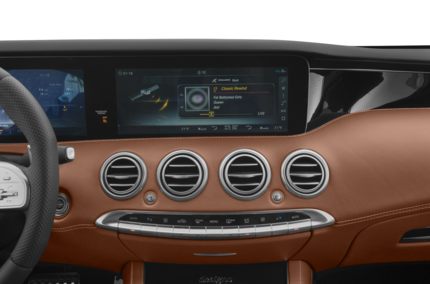 CarsDirect Tip
An S 560 is the way to go if you don't have the cash to throw at an S 63 or a Maybach. Compared to the S 450, the extra two cylinders and the torque-y smoothness of a V8 make all the difference in how the car feels wafting away from a stop or gliding along the highway. If you can afford a 2019 Mercedes-Benz S-Class, do it right and get one with (at least) eight cylinders.