Two or four doors. When it comes to small cars, manufacturers typically offer one body style, sometimes two. The 2019 Mini Hardtop, a front-wheel-drive vehicle, has two: a two-door and a four-door hatchback.
Both models offer generous storage space, but only with the rear seat folded. The two-door has 8.7 cubic feet of standard space and 34 cubic feet with the rear seat down. The four-door supplies 13.1 cubic feet of standard cargo space and 40.7 cubic feet behind the front seats. These numbers beat the Fiat 500, which has 9.5 cubic feet of standard space and 30.1 cubic feet of expanded space.
Cabin wallops competition, rivals some premium models. You may be aware that BMW owns Mini and that fact quickly becomes apparent inside the vehicle with the choice of materials used. The cabin is upscale and comfortable and has far less hard plastics in place than what you'd expect from a car in its class.
The front seats are supportive and thickly cushioned, although we must admit the rear seat isn't nearly as comfortable. Also, if you need rear seat access, the four-door is the way to go – entering and exiting the rear seat in the two-door model is challenging, even for the most limber passengers.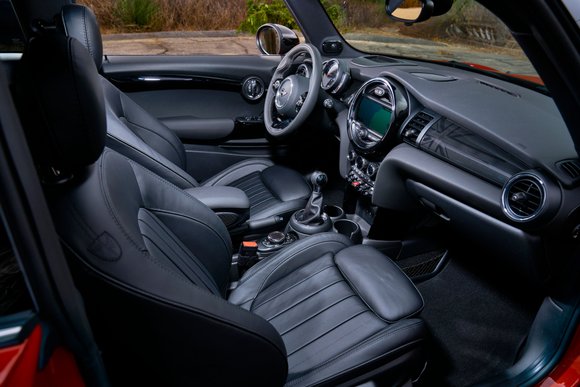 Cut-above infotainment system. Mini's BMW relationship is also evident with its infotainment system, which is derived from its partner's iDrive system. It's easy to use and modern, and, thankfully, it lacks the dispassionate layout of some luxury models. We're particularly smitten by the glowing and color changing surround.
The standard equipment includes a six-speaker audio system with a 6.5-inch touchscreen display, Bluetooth, and a USB port. Upgrades allow buyers to access an 8.8-inch screen, a 12-speaker Harman Kardon audio system, wireless device charging, and Apple CarPlay integration. Alas, Android Auto isn't available and that's a deep disappointment.
Two turbocharged engines, two transmissions. Mini offers not one, but two turbocharged engines, including the segment's only three-cylinder motor. Both engines work with either a six-speed manual or a six-speed automatic transmission.
The base 1.5-liter turbo three-cylinder delivers adequate power, but we're enamored with the optional 2.0-liter turbo four-cylinder engine. It produces 55 more horsepower and 45 more pound-feet of torque than the base motor to enhance this model's performance, especially while romping on twisty roads and pulling out of corners.
Mini also utilizes an enhanced turbo-four for its two-door John Cooper Works variant. This one pushes the performance envelope to 228 hp and 236 lb-ft of torque and gets the Mini Hardtop from zero to 60 mph in about six seconds.
Final thoughts. The 2019 Mini Hardtop starts out at just under $23,000 and that represents the top end of small, mainstream models. Well-equipped models can cost much more than $30,000, which puts the Mini into the luxury car territory.
Perception is nearly everything in the auto industry and Mini's BMW connection explains this model's premium presentation. Combine that with its iconic looks and the Mini Hardtop successfully carves a niche for itself.