Mitsubishi may not be as well known as it once was, but the Japanese automaker still makes affordable and value-packed vehicles that are often, surprisingly, solid choices in their respective segments. The 2019 Mitsubishi Outlander PHEV is the automaker's largest SUV, and also happens to be one of the few compact SUVs that have a plug-in hybrid powertrain. Value comes before all else with the Outlander PHEV, as competitors are better options overall.
What's New for 2019
Just like the other Outlander trims, which are covered separately, the PHEV trim sees a handful of changes that are capped off by new exterior styling. The changes, though, are minor, as the SUV gets a new design for the headlights, front end, lower rear skid plate, and 18-inch wheels. Air vents and a USB port have been added for passengers in the back.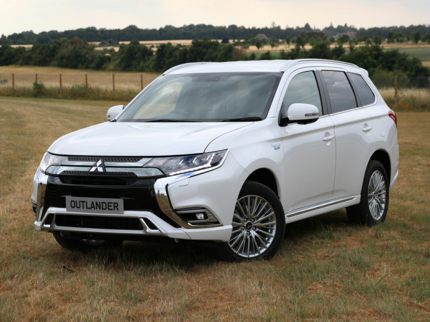 Choosing Your Mitsubishi Outlander PHEV
One of the major reasons for choosing the Outlander PHEV over other compact SUVs is because of the vehicle's electrified powertrain. Power for the model predominantly comes from a 2.0-liter four-cylinder engine that produces 117 horsepower and 137 pound-feet of torque. The engine is paired with a 60-kW electric motor that's good for an extra 80 hp. A 12-kWh lithium-ion battery pack is also included. A single-speed transmission and all-wheel drive are standard.
When fully charged, the Outlander PHEV can travel a total of 22 miles on electricity, according to the EPA. It also achieves an EPA-estimated 25 miles per gallon combined on gasoline, or 74 miles per gallon of gasoline equivalent (MPGe) .
While not as good as the competition on regular gas, plug the Outlander PHEV into a 240-volt charger, and you'll only have to wait 3.5 hours for a full charge. On a charger putting out 120-volts, wait times range from eight to 13 hours, depending on amps.
Without the extra pair of seats in the back that the regular Outlander offers, the Outlander PHEV has a spacious cargo area, which solves a dilemma that a lot of other electrified vehicles have. With the second row in place, the Outlander PHEV has 30.4 cubic feet of cargo space. In total, the SUV can hold up to 66.6 cubic feet of cargo.
There are two Outlander PHEV trims to choose from: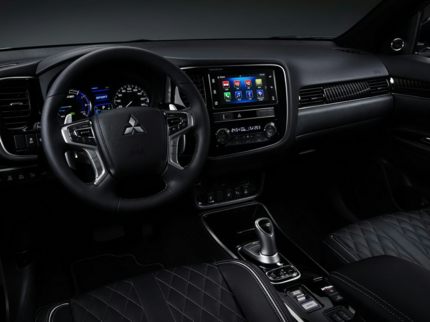 CarsDirect Tip
Call us old fashioned, but spending $40,000 on a Mitsubishi that isn't a rally monster seems wrong. So, if you're really interested in the 2019 Mitsubishi Outlander PHEV, we recommend sticking with the SEL trim, as it's well equipped.