Nissan's white-space wonder. The 2019 Nissan Rogue Sport sits between the subcompact Kicks and the compact Rogue in Nissan's small crossover utility vehicle universe. Thus, it occupies blank space typically not filled by manufacturers, while attempting to find a middle ground for customer consideration.
The Rogue Sport offers available all-wheel drive and that's something not found in the Kicks. It shares some of the styling of the larger Rogue, but its price point is thousands of dollars lower.
Helpful features for the price. For a starting price of $23,285 including destination, the Rogue Sport comes well equipped. It comes with 16-inch wheels, automatic emergency braking, and cloth upholstery. Nissan also includes a 7-inch touchscreen display with Apple CarPlay and Android Auto smartphone compatibility, Bluetooth connectivity, and a USB port.
If you choose the base trim, you're not settling for (much) less. Our only recommendation is upgrading to the 17-inch alloy wheels, which is part of a $570 Appearance Package with all-season tires.
Impressive list of standard safety features. The Rogue Sport hasn't been put through the crashworthiness testing of other small Nissan models, but we expect that'll change soon. All models come with automatic emergency braking and that's a direction we like.
This year, Nissan rolled out a suite of driver-assist safety features under its "ProPilot Assist" umbrella. It's designed to reduce driver fatigue on stop-and-go commutes or long drives. Here, you'll find adaptive cruise control, lane keeping assist, and blind-spot monitoring. It isn't a hands-free system, but it does point to the automaker's autonomous drive aspirations. We think Nissan is headed in the right direction here.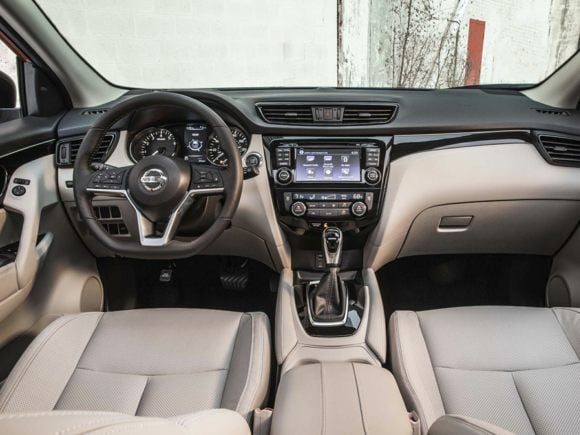 Performance is weakest link. If there's an area where the Rogue Sport doesn't quite measure up, that would be with its engine. Nissan supplies just one engine choice: a 2.0-liter inline four-cylinder with 141 horsepower and 147 pound-feet of torque.
Most definitely, the Rogue Sport is slow, but so are its main competitors. On the plus side, the Rogue Sport gets laudable fuel economy ratings with its continuously variable transmission. It achieves an EPA-estimated 25 miles per gallon city, 32 mpg highway, and 28 combined. In effect, you're maximizing fuel economy with some cost to performance. Most shoppers probably won't care.
Final thoughts. The 2019 Nissan Rogue Sport sits in a space all by itself, but its dimensions are closer to the subcompact range than to compact models. We think it offers attractive styling, lots of amenities and safety features, and an attractive starting price. Its weak powertrain may concern some, but if you're looking for a commuter vehicle with generous utility, you can't go wrong with the Rogue Sport.