The first Porsche Cayenne ruffled a lot of feathers when it appeared in 2002. It seemed to indicate a loss of direction, a straying from the holy sports-car path upon which Porsche had reverentially followed. But the first sport utility by Porsche wasn't an apocalypse or Armageddon – it instead managed to put the "sport" in sport utility while also filling the coffers of the niche company, which allowed it to remain independent until the Volkswagen Group took control in 2012. For 2019, Porsche has introduced an all-new Cayenne, which promises to again push the limits of how much sport can be injected into a sport utility vehicle.
What's New for 2019
The Porsche Cayenne is completely redesigned for 2019.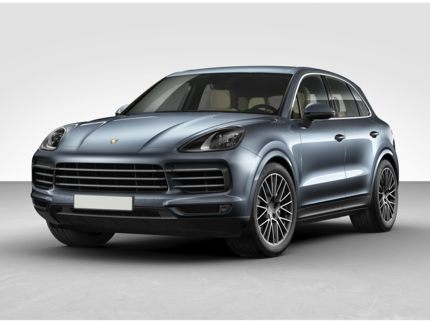 Choosing Your Porsche Cayenne
Performance is the critical factor when choosing what Cayenne to buy, as the three available trims differ in their powertrains but offer mostly the same standard comfort and convenience features. Base models have a turbocharged 3.0-liter V6, which puts out 340 horsepower and 332 lb-ft of torque. This lets the Cayenne reach a 152-mph top speed and do zero to 60 mph in 6.2 seconds. The eight-speed automatic transmission handles gear shifts, and in fact backs every engine available for the Cayenne.
Next up is the S, which ups the performance ante with a 2.9-liter twin-turbo V6. This engine's 440 hp and 405 lb-ft of torque pack enough of a punch to let the Cayenne hit a top speed of 164 mph and hit 60 in just 5.2 seconds.
The best performance, however, comes from the 550-hp and 567-lb-ft Turbo model. The 4.0-liter, twin-turbo V8 allows the SUV rocket up to 177 mph, and the 3.9-second 0-60 blast staggers the mind once you consider the sheer physics of that feat. This is, after all, a 4,800-pound SUV that's 194 inches long, manages to have 26.3 cubic feet of cargo space with the rear seats upright, and can tow 7,700 pounds. Another round of hefeweizen, bartender!
The performance is eye-watering, but the options list is even more so. From standalone features to option packages to lifestyle accessories, one can easily spend the American median annual income on add-ons and still not come close to a fully loaded Cayenne.
That said, let's dive right into it: Begin by choosing one of 11 wheel options, 10 interior hues, and three trim materials, and don't forget to make a selection from the wide exterior color palette. Even choose the color of the seat belts and brake calipers, if you're the type who likes to match their belt and shoes with every outfit.
Some notable comfort and convenience options include 14-way and 18-way memory power seats ($1,900 and $2,3320, respectively), keyless entry ($890), ventilated seats front and rear ($1,700), massaging seats front and rear ($2,850), and four-zone climate control ($990). A 21-speaker Burmester sound system pumps out over 1,400 watts and costs $5,810, and a rear-seat entertainment system runs for $1,920. The $3,690 Premium Plus Package bundles many of these features, including the front ventilated seats, four-zone climate control, and keyless entry. It also comes with lane-change assist and ambient lighting.
If safety is a concern - and with all this horsepower on tap, it probably should be - Porsche has a few accident-mitigating features on the menu. These include a $1,720 head-up display, $2,000 adaptive cruise control, $950 lane-change assist, and a $2,420 night vision assist.
For those looking to wring out every iota of the Cayenne's inherent sportiness, be sure to consider the rear-axle steering ($1,620), ceramic composite brakes ($5,580), and torque vectoring ($1,500). Complement these gee-whiz technologies with the $1,130 Sport Chrono Package, which adds four driving modes, launch control, a Sport Response button (which when pressed calibrates the powertrain for full performance), and both an analog and digital stopwatch. For the Base and S models, this package drops 0-60 times by .3 seconds. If taking the Cayenne beyond where the asphalt ends, the $2,000 Off-Road Package brings skid plates, a compass, and digital readout displays of tilt, gradient, and steering angles.
In the typical Porsche fashion, all options are available across all Cayenne sub-models; nothing is trim-level specific.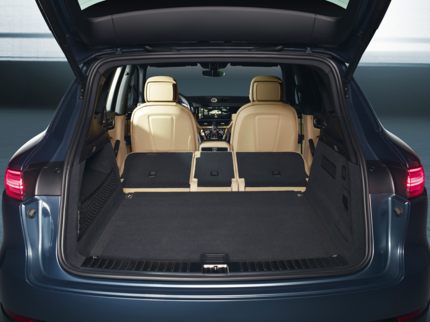 CarsDirect Tip
If money is no object, get the Turbo, if only to revel in hammering the throttle and being immediately thrust back into the seat by the twin-turbo V8's black magic. For the rest of us, it comes down to one question: speed or luxury? For the former, go with the S, add the Sport Chrono Package and maybe the torque vectoring or rear steering, and be done. For the latter, get the base model and add all the luxury options you deem worthwhile. Either way, expect to shell out $80,000-$90,000 to have the Cayenne optioned out as it should be.