Subaru's first plug-in hybrid. Remember the original Crosstrek hybrid? That one was a conventional model and it never sold well. Blame the higher price premium and negligible fuel savings with ensuring the hybrid's quick cancellation after just three years.
The automaker changes things this year by introducing its very first plug-in hybrid model: the 2019 Subaru Crosstrek Hybrid. Its new system uses a horizontally opposed 2.0-liter four-cylinder engine, two electric motors, and a continuously variable transmission to send power to the wheels.
One electric motor works as the engine starter. It can also receive power from the engine to function in a secondary capacity by serving as a generator for the hybrid battery. The second battery works with the engine to send power to motivate the Crosstrek. It also has another role for recharging the hybrid battery by means of regenerative braking.
Modest electric range. The electric-only range for the 2019 Crosstrek Hybrid is just 17 miles, according to the EPA. The interesting thing here is that it'll stay in electric mode at speeds up to 65 mph. It also accelerates from zero to 60 mph one second faster than the conventional model.
Even with the limited range, the Crosstrek Hybrid returns an EPA-estimated 90 miles per gallon of gasoline equivalent, or 35 mpg combined. Importantly, it has a range of 480 miles, which is an upgrade over the conventional Crosstrek's 415-mile range with the manual transmission.
Hybrid with benefits. Not only does the Crosstrek Hybrid save fuel, but it provides a handsome federal tax credit of $4,502. Your state may offer additional incentives, including a tax break or credit. Some states go even further when it comes to electrification. For example, New York, Maryland, and California are among those jurisdictions that grant high-occupancy vehicle (HOV) to plug-in hybrids. This means with the proper permit affixed, you can take the 405 and breeze past slow-moving traffic in the other lanes.
Additionally, Subaru sets the Crosstrek hybrid apart from the conventional model in a few ways that go beyond the powertrain. For instance, a Lagoon Blue Pearl exterior paint is unique to the hybrid. It's one of four choices available. Other unique touches include blue headlight projector rings and unique silver finish on the grille as well as on the lower front bumper, body cladding, and fog light accents. Roof rail and wheel accents offer their own take on visual appeal. Inside, the cabin has high-contrast gray and navy-blue leather seats, door panels, and armrests. Blue stitching and accent panels add a premium look.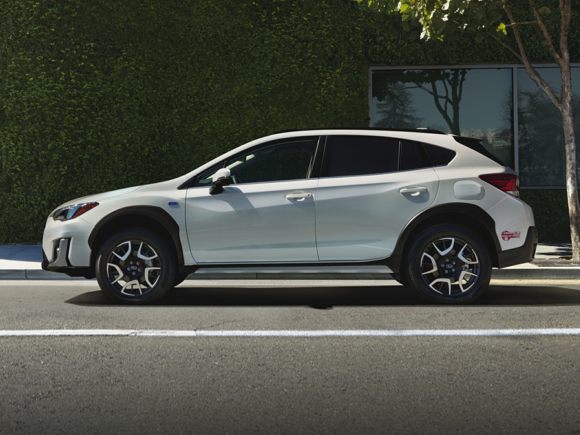 All-wheel drive when you want it. Every single Crosstrek competitor comes with standard front-wheel drive. Most offer all-wheel drive, but not all. In any case, upgrading to all-wheel drive elsewhere increases your standard price.
Like other Subaru models, the Crosstrek Hybrid features standard symmetrical all-wheel drive, an in-house name that describes how power is transferred between wheels as they slip for improved grip.
Final thoughts. While the brand struggled with selling the first Crosstrek hybrid, the 2019 Subaru Crosstrek Hybrid may actually make a difference for the automaker. The federal tax credit is an important distinction that the previous hybrid did not qualify for.
Given that all hybrids remain a struggle to sell, we also think the incentives will be strong. Or at least your negotiation position should be powerful when working with your dealer to acquire one.