An affordable Tesla finally hits the market. It took nearly three years, but we now have a $35,000 2019 Tesla Model 3 for consideration ... well, $36,200 including destination. This bare-bones, Standard Range model may not have the amenities of the pricier versions, but it does bring with it a more affordable price point. Besides, there's a $3,750 federal tax credit for the taking, and additional incentives await in some states.
Although it's simple on amenities, the base Model 3 delivers an EPA-estimated 220-mile driving range. It also moves from zero to 60 mph in just 5.6 seconds, keeping you ahead of most models in this segment.
Sport sedan with performance numbers to back it up. The base model may have laudable performance numbers, but the top-end versions equipped with dual motor all-wheel drive and the Performance variant raise the prowess bar considerably.
Tesla's traction control and stability control systems work so well that this sedan stays planted, avoiding the wheel spin and tire noise that typically accompany any other vehicle with its blistering off-the-mark acceleration. This sedan quietly rockets from zero to 60 mph in as fast as 3.2 seconds with 450 horsepower and 471 pound-feet of torque at the ready.
Tesla backs up the performance numbers with a great driving position, fast, well-weighted steering, a smart drive system, and a firm yet comfortable suspension system. It takes on such German stalwarts as the Audi A4 and BMW 3-Series, beating both at what they do best: performance driving.
Polarizing design. Place the Model 3 and Model S side by side and the differences between the two are apparent. Quite frankly, the Model 3 doesn't have the panache of its older, larger sibling, although its lines are somewhat similar. The front end is less polished and seems almost unfinished, but make no mistake about it: this is a Tesla.
Inside, the minimalist cabin is clean, but it also seems cheap and perhaps too basic for the price. You won't find conventional switchgear and buttons, but an oversized, horizontally-oriented touchscreen. Overall, the look is about as spartan as they come and the materials used are also basic. Then there's the matter of fit and finish – Mercedes-Benz and Lexus have nothing to fear here.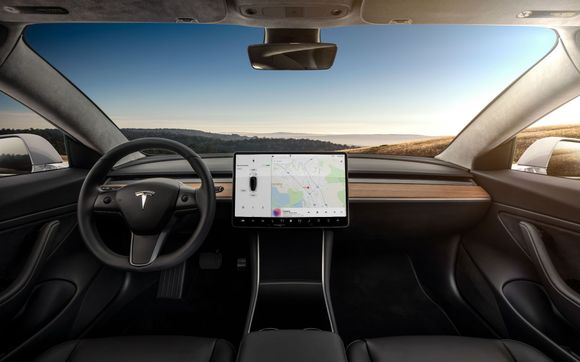 Supercharger network to back you up. Perhaps one of the most significant facts about the Tesla Model 3 is that owners have access to the company's supercharger network. This network essentially eliminates worry about charging, as stations are strategically placed along major routes and at reasonable intervals. Unlike other electric vehicles that rely exclusively on private and public charge stations, the Tesla network ensures owners a place to get a quick boost and continue on with their drive.
As of this writing, there are nearly 1,500 charge stations in the supercharger network. Initially offered for free, Tesla now passes the cost of charging to customers. The company encourages home charging, with the supercharger network serving as an important backup.
Final thoughts. Tesla now has one of the most affordable EV models on the market, aiming for mainstream shoppers. The cost is still more than what you'd pay for a gas-powered Toyota Camry or Nissan Altima, but it comes in less than the Mercedes-Benz GLA or Jaguar XE.
While the base 2019 Tesla Model 3 does bring in a favorable price point, we think most shoppers will be attracted to top models with longer range and more power. Expect your final cost to top $40,000, with tax credits and other incentives for the taking.