Got to take the good with the bad. Since its 2016 debut, the Tesla Model X has revolutionized the crossover and SUV segments, forcing automakers to invest in greening up their people-hauling lineups.
While it does many things right, the 2019 Tesla Model X isn't perfect. Whether it's the finicky door system, its heavy design gleaning from the Model S, or the limited number of options for being considered a luxury crossover, the Model X has a handful of pain points Tesla need to address moving forward.
The trick doors are no treat. When Tesla first showed off the Model X and its trick Falcon Wing doors, supercar junkies lost their minds over the concept of an electric crossover boasting doors usually reserved for $250,000 supercars. While the Falcon Wing doors look great when they're open, there are many downsides to them.
The biggest recurring complaint about the doors is their slow operation. When you forget something in the back seat of your car, you likely run back, quickly unlock the door, and grab the item. In the Model X, this is a 20-second ordeal as you wait for the doors to do their magical lifting act. Beyond the slow operation, there have also been sensor issues that cause the doors to malfunction and clearance issues.
There is a positive to these doors, though, as they make it easier to get in and out of the Model X's rear seats.
Green, people-hauling supercar killer. Not only are the Falcon Wing doors something you'd expect from a supercar, but the Tesla Model X delivers supercar levels of acceleration with the optional Ludicrous Mode. With this $20,000 option box ticked, the Model X sprints to 60 mph in just 2.8 seconds.
Is that a little much for you? The Long Range model is no slouch at 4.7 seconds to 60 mph, and the standard Performance model finds a happy medium at 3.5 seconds to 60 mph. The only competitor that even sniffs this level of performance is the Jaguar I-PACE with a 4.5-second zero-to-60 mph time.
The Model X is also thrifty with an EPA-estimated 295-mile range in its base Long Range trim. The Performance model isn't far behind with a 289-mile range.
What's more, the Model X does all this while hauling up to seven people and 87.8 cubic feet of cargo room with the rear seats folded. This crushes the Audi e-tron's 57 cubic feet and Jaguar I-PACE's 52 cubes. The Model X struggles with cargo with its seats up, offering just 12.6 cubic feet of space. The e-tron delivers a more respectable 28.5 cubic feet, and even the sleek I-PACE does better at 25.3 cubes.
Loads of features, but some only partially work (for now). There's no shortage of features in the Tesla Model X, as its standard equipment includes a slick 17-inch touchscreen infotainment system, ash wood trim, a dark headliner, leather upholstery, and tons more. If that's not enough for you, there are three wheel options and five-, six-, or seven-seat configurations available.
Moving into the truly futuristic side of the Model X can be a lesson in patience. There's the fully functional $3,000 Autopilot option that allows the car to drive itself for short periods on the interstate with occasional grabs of the steering wheel to confirm you aren't catching a few Zs while the Model X handles your commute.
The $5,000 Full Self-Driving Capability function is the most disappointing, as it adds in on- and off-ramp automation, automatic parking, and a summon mode that drives the Model X a short distance to you in a parking lot, but fully autonomous city driving won't come until later in 2019 at the earliest.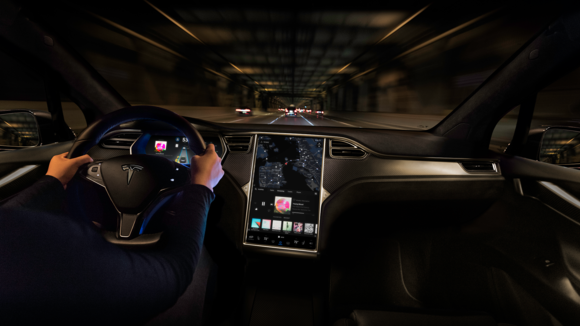 Final thoughts. The 2019 Tesla Model X is an amazing combination of technical advancement and muscle. Does it have a few flaws and growing pains? Yes, but these are all part of being a trendsetter in a generally stagnant industry. If you're willing to put up with these flaws, the Tesla Model X rewards you with incredible performance, ahead-of-its-time technology, and plenty of gasoline-free driving.
Want something that looks more unique? The Jaguar I-PACE has style for miles. If you prefer to buy your electric utility vehicle from an automaker with a longer track record in the industry, the Audi e-tron is a great option, but you will take a cut in driving range. Not quite ready to fully detach from the comfort of a gas pump? The Volvo XC90 T8 delivers 19 miles of all-electric driving range and 25 miles per gallon combined when in hybrid mode.