Model Preview
The Toyota Camry Hybrid underwent a complete redesign for 2018, so we expect no significant changes when the 2019 Camry Hybrid debuts.
We expect the sleek, new looks of the 2018 Camry Hybrid to carry over unchanged in the 2019 model. This should please most buyers, as this lower, longer, and more angular body certainly won over many people. The same lack of change should also carry into the interior, where we expect everything to remain the same.
With no changes inside or out, we also expect its standard equipment to remain the same. If this proves accurate, expect it to roll in with standard 16-inch steel wheels, automatic LED headlights, a rearview camera, dual-zone auto climate control, power driver's seat, Toyota Entune, a 7-inch touchscreen, a six-speaker audio system, and more.
Under its hood, we anticipate everything to be the same in the 2019 Camry Hybrid. Expect to see the same 2.5-liter four-cylinder engine and electric motor that route 208 horsepower through a continuously variable transmission. Barring any last-second changes from the EPA, the 2019 Camry Hybrid should also continue to deliver up to 52 miles per gallon combined in the LE trim or 46 mpg in the XLE and SE trims.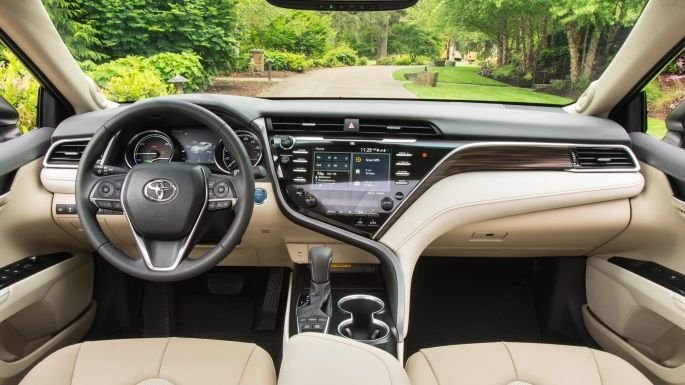 In terms of safety, the 2018 Camry was an IIHS Top Safety Pick+. What's more, this rating is valid on the base trim, as it comes standard with the required automatic emergency braking. This should all remain the same when the 2019 Camry Hybrid makes its debut. Of course, this is assuming the IIHS doesn't move the goalposts, which it has a habit of doing every now and again.
Pricing & Release Date
We expect to see the 2019 Camry Hybrid in showrooms this summer.
Official pricing is due to be released in July. At the moment, we don't expect much of a shift relative to the current Camry Hybrid, which ranges from $28,695 to $33,145 (destination fees included).
Key competition for the 2019 Camry Hybrid will include the Hyundai Sonata Hybrid, the Ford Fusion Hybrid, and the Honda Accord Hybrid.
Pictured: 2018 Camry Hybrid