Mid-size or large crossover? The 2019 Toyota Highlander Hybrid, like its conventional variant, occupies an interesting place in the market. Technically, it's a mid-size, three-row crossover utility vehicle. However, with its spacious interior and room for eight passengers, you'd be forgiven if you thought it was full-size.
When the second- and third-row seats aren't in use, you'll find a generous 83.2 cubic feet of interior storage space available. Moreover, this hybrid can tow with its 3,500-pound trailering capacity. We'd also be remiss if we failed to mention that this model has standard all-wheel drive.
Rarity among hybrids. Nearly all hybrid vehicles are small as they typically utilize a four-cylinder engine and one or more electric motors. Larger vehicles, such as the Chevrolet Tahoe Hybrid, were only mild hybrids – they didn't supply the full benefit and efficiencies of a hybrid.
The Toyota Highlander Hybrid finds the right balance between efficiency and performance with its 3.5-liter V6 engine. This model's net power output is 306 horsepower and it gets an EPA-estimated 29 miles per gallon city, 27 mpg highway, and 28 combined. Ford is jumping into this market with its 2020 Explorer Hybrid, but that vehicle is still a model year away.
Up and down technology. On the one hand, the Highlander Hybrid offers an impressive amount of technologies, including five total USB ports, Bluetooth wireless technology, and a 6.1-inch screen. On the safety front, you'll find automatic high beams, a forward collision warning system with pedestrian detection, lane departure warning with steering assist, and adaptive cruise control. These are all good things.
Where the Highlander Hybrid falls short is in smartphone connectivity. You still can't get Apple CarPlay or Android Auto smartphone compatibility and that's a bummer for anyone who expects it. Toyota is working out the proprietary and licensing kinks, but that doesn't give you what you want right now.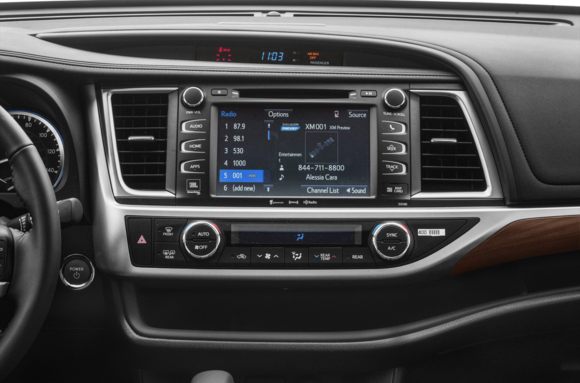 Props for comfort. But not in luxury. The Toyota Highlander Hybrid is a mainstream model and nothing else. If you're looking for luxury features, then you'll need to turn to Lexus.
This model's strength lies in its overall comfort. It has a quiet interior with very comfortable seats in the first two rows. The third row, like in other utility vehicles, is tight and best saved for the youngsters. Its strongest point here may be its comfortable ride. It's soft and even luxurious. We can't help wondering if it was tuned by Lexus engineers.
Value packed. Hybrid models typically carry a price premium that adds thousands of dollars to each vehicle. That's understandable as manufacturers must recover their costs.
On close inspection, the value proposition with the Highlander Hybrid is a strong one. This is especially so as you move up the trim range. Indeed, with the Limited edition, the differences between the two all-wheel-drive models is just $1,620. With a six mpg difference between these models, the extra cost of the hybrid should be recouped in about four years, according to EPA data.
Final thoughts. You might not consider a hybrid model when gas prices are low, but they represent valuable insurance in these days of unstable fuel prices. As with any hybrid, the longer you own one, the more likely you'll see your return on investment. Fortunately, Toyota makes that return a short one with the 2019 Highlander Hybrid. That it rides comfortably and offers a versatile interior are two of its stronger points.