Upscale styling. Wagons have never been the most handsome vehicles on the road, but the 2019 Volvo V90 oozes class. Volvo's unique grille and headlights, which have a design that's inspired by Thor's hammer, are beautiful elements.
Instead of trying to hide its lines, Volvo has accented the V90's long roof with a curvy rear end. If you're looking for something that's rugged instead of stylish, the V90 Cross Country brings SUV-like qualities into the mix.
Long a champion of interior designs, Volvo has worked its magic on the V90's interior. Not only is there a generous amount of space in both rows, but the front seats are supportive and offer a wide range of adjustments. A massive 12.3-inch touchscreen dominates the center console, but keeps things on the inside simple and elegant.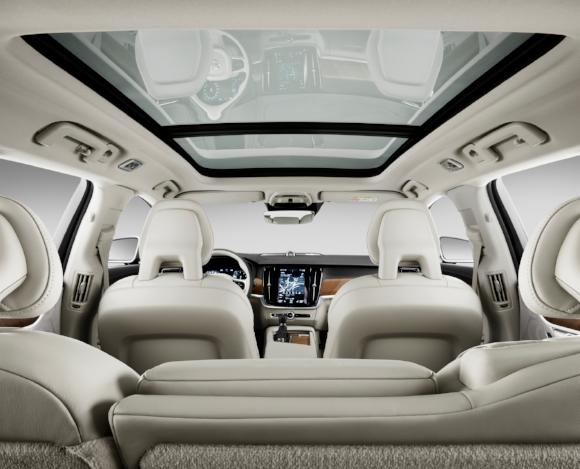 Decent cargo space. While not as spacious as some of its key rivals, the V90 has a good amount of cargo space that's on par with some SUVs.
Behind the rear seat, the wagon can hold up to 19.8 cubic feet of cargo. Fold the rear seat down, and the V90 opens up to offer 69 cubic feet of space. If you have small pieces of cargo, the V90 has a small cargo area underneath the cargo floor.
Above average fuel economy. Despite being a large wagon, the V90 and V90 Cross Country both have good fuel economy figures. There are two four-cylinder engines available on the V90 models.
The base engine is a turbocharged 2.0-liter four-cylinder that makes 250 horsepower and 258 pound-feet of torque. With an eight-speed automatic and front-wheel drive, this engine gets up to 23 miles per gallon city, 35 mpg highway, and 27 combined, according to the EPA.
A supercharged and turbocharged version of the same engine is available that pumps out 316 hp and 295 lb-ft of torque. The engine is only available with all-wheel drive and can get up to 21/31/25 mpg (city/highway/combined).
The Cross Country comes with the more powerful engine standard, but loses one mpg in each driving condition because of its higher ride height (6.0 inches compared to 8.3 inches).
Good luck finding one. The V90 might be one of the best wagons on the road, but finding one at a dealership will be a difficult task. The V90 is available by special order only.
So, unless it's a used V90, chances are incredibly slim that you'll run into one at your local dealer. The more rugged V90 Cross Country, though, isn't held back by being a special order only vehicle.
Final thoughts. Consumers that aren't convinced by SUVs will find a lot to like with the 2019 Volvo V90 and V90 Cross Country. Upscale styling inside and out, a lengthy list of standard equipment, a spacious cabin for five passengers, and decent cargo space are all things V90 models possess.
While the V90 strikes a good middle ground between offering a comfortable ride and decent performance, there a few things we were left wanting for. Both four-cylinder engines sound unrefined and don't have the same oomph as rivals, while the ride on the standard V90 can be harsh on rough roads. The V90 Cross Country's ride, though, isn't as bad. Cargo space is down compared to other wagons, too.
The Mercedes-Benz E-Class Wagon is more luxurious, has a nicer cabin, and is available in a high-performance variant. The Audi A4 Allroad is more of a competitor to the V90 Cross Country and packs more tech in a business-like design. The Subaru Outback has been one of the more popular wagons for decades and has more cargo space and a more rugged design than the V90 Cross Country.