Wagyu beef on a Quarter Pounder budget? There are plenty of compact luxury sedans to pick from, as today's premium automakers take a hook-them-while-they're-young approach. The 2020 Acura ILX is entrenched in this battle, but there's fierce competition from more established names in the segment like BMW, Mercedes-Benz, and Audi.
Fortunately for Acura, it has a huge price advantage. But you shouldn't think of it as wagyu beef on a Quarter Pounder budget. The aging ILX lags behind the competition when it comes to standard features and material quality.
Old bones are starting to ache. The Acura ILX debuted in 2013, and other than a refresh in 2019, it's the same basic vehicle. In a class where things have been changing quickly, this ol' Acura is close to filling out its AARP membership card. To put it kindly, the ILX is well overdue for a redesign.
That said, since it's running on older technology that keeps its starting price at $26,895, the ILX offers younger or budget-minded buyers the opportunity to jump into a luxury sedan.
The problem is that the longer the ILX stands pat with its older design, outdated infotainment system, and other last-generation bits, the further it falls from being a legit luxury car.
While its design and features may be a little long in the tooth, adults will find the ILX's 34 inches of rear leg room surprisingly roomy relative to its competition. The Mercedes-Benz A-Class has just 33.9 inches of leg room, and the Audi A3 has an inhumane 31.9 inches.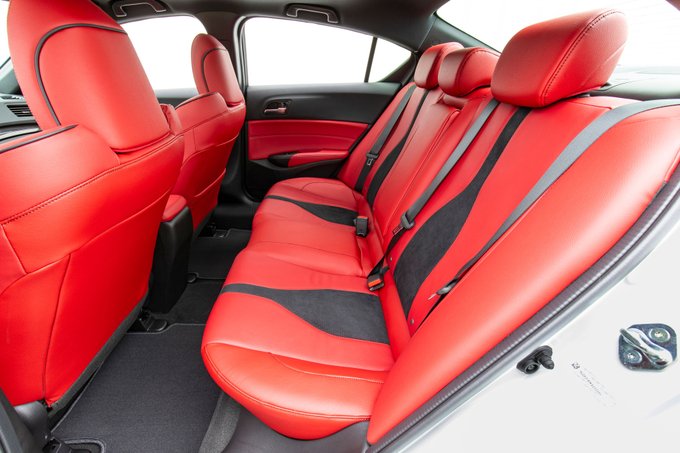 Old-school Civic Si power. The ILX's powertrain is partially farmed from the last-generation Honda Civic Si, giving fans of naturally aspirated engines a rare sight in the compact luxury segment: an engine without a turbocharger.
This high-revving 2.4-liter four-cylinder doesn't bat an eye as it nears its 7,100 rpm redline. During this ascent to VTEC heaven, this four-pot hits 201 horsepower and 180 pound-feet of torque. This isn't a pile of power, but it's good enough for a mid-six-second 0-60 mph time. Add to that the fun factor of wringing out this engine, and we can see what attracts people to it.
Buyers seeking more performance will find this in the 248-hp BMW 2-Series or the 220-hp A3.
Great safety features, but not much else. Despite its age, the ILX has plenty of advanced safety features and satisfactory crash-test ratings. In IIHS testing, the ILX scored "Good" ratings in each crash test and a "Superior" rating in forward-collision avoidance. The latter is thanks to its standard automatic emergency braking. Other advanced safety bits include adaptive cruise control and lane keeping assist.
Unfortunately, due to its "Poor" headlight rating, the ILX missed earning an IIHS Top Safety Pick rating.
While its safety features are plentiful, the ILX sorely lacks many of the more exciting standard tech features. Yes, it boasts standard LED headlights, Bluetooth, and a USB port, but its funky two-screen infotainment system feels a decade old and its lack of standard Android Auto and Apple CarPlay is simply unacceptable. Adding smartphone integration requires moving to the Premium package, which adds $1,850 to the base price.
Those who also find the lack of standard smartphone integration unacceptable in a luxury car can look to the A-Class, Volvo S60, and Cadillac CT4. All three come standard with these must-have features. The A3 offers them as part of an optional package, but they only run an extra $900.
Final thoughts. The 2020 Acura ILX is a great way for folks to get into the luxury car space early without breaking the bank. The problem is, some Buicks feel more luxurious in terms of fit, finish, and features. Fortunately, the ILX still has the Acura name behind it, but even that can make up for its shortcomings for so long.
Buyers looking for more luxury without too expensive can look to the $34,295 A3, the $33,795 A-Class, or the $33,990 CT4.