Handsome styling. The main draw of the 2020 Audi A5 over the A4 is that it uses the brand's suave, coupe-like styling. The A5 Sportback still has four doors, which means it has a hatchback trunk instead of a traditional one like you'll find on the A4. On paper, it may not sound like a drastic difference, but in person, it's an extreme variation that gives the A5 a much prettier look.
For 2020, Audi updated the A5 lineup with reshaped LED headlights, larger air intakes, and a wider grille. Small changes, but they help the already handsome A5 look even more upscale. If you're not a fan of the Sportback, Audi also sells the A5 in coupe and convertible body styles, which look just as good.
Audi made a few changes to the A5's cabin, too, but they're not nearly as noticeable. Last year's 7.0- or 8.3-inch touchscreens have been replaced by a larger 10.1-inch unit. The screen also feature's Audi's latest infotainment system that sees the old control knob disappear, freeing up a lot more space on the center console and resulting in a less cluttered look.
Sporty design backed by sporty engine. The A5 only has one available engine, but it's a good one. Power comes from a turbocharged 2.0-liter four-cylinder that produces 248 horsepower. It's an engine that's familiar to the Volkswagen family, being found in everything from the Volkswagen GTI to the Porsche Macan. In the Audi A5, the engine delivers the right amount of performance.
The motor is paired with a great seven-speed dual-clutch automatic transmission. Shifts happen quickly, with very little interruption in the way the engine delivers its power. With a quoted 0-60 mph time of 5.6 seconds, the A5 is more than quick enough for the majority of drivers.
Whether you're darting around town or heading for a long cruise, the A5 is a comfortable, composed, and capable machine. Around corners, the A5's well-weighted steering highlights just how agile it is. The standard all-wheel-drive system has a lot to do with that, too. On the open road, the A5 continues to impress with just how planted it is at highway speeds.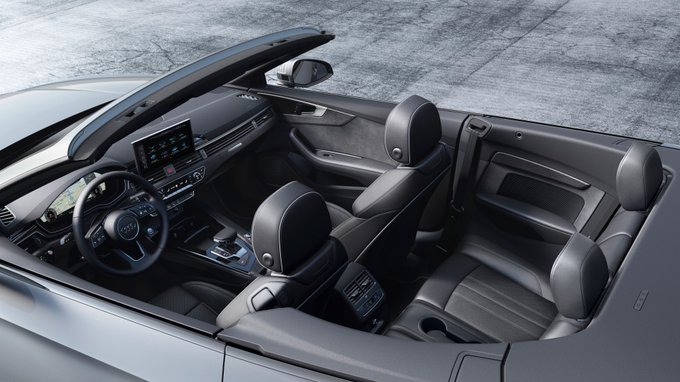 Standard tech features galore. Prices for the A5 can skyrocket easily, but you don't have to spend a lot of money to get into a model that's packed with tech. Stick with the base A5, the $43,895 Premium, and you're still getting a well-equipped luxury vehicle.
Standard features include a 7-inch driver information center, a 10.1-inch touchscreen, smartphone compatibility, and a 10-speaker audio system. A good amount of safety features are also standard, such as pedestrian detection, automatic emergency braking, and forward collision warning. A system which prepares the vehicle before an imminent collision is also included.
Expect stops as the gas pumps. While European A5 models can be fitted with diesel engines and a mild-hybrid system, there's nothing like that for America. Without a mild-hybrid powertrain, fuel economy figures for the A5 aren't stellar.
Coupe and Sportback bodies earn 27 miles per gallon combined, according to the EPA. Convertibles weigh more and get a slightly lower 26 mpg. These aren't great figures, and when you combine that with the fact that the A5 needs premium gas, it knocks it down a few points.
Final thoughts. The 2020 Audi A5 is a luxury vehicle that will have you rethinking a switch to an SUV. With three different body styles to choose from, an excellent chassis, and a great list of standard tech features, the A5 hits a lot of highs for consumers searching for a luxury vehicle.
The fact that the A5 Sportback not only looks better than the regular A4 sedan, but has more cargo space makes it a better option in our opinion. But you'll have to reach further into your wallet for the extra goodness.
We're impressed with the A5, but we're left wanting more safety features as standard. The majority of them are only available as part of pricey optios. As with many other coupes and convertibles, you'll have a hard time squeezing two passengers into the back, but that's par for the course.
Sportbacks are becoming popular as more consumers are searching for extra cargo space. The BMW 4-Series is available in similar body styles as the A5, costs more, and is more athletic around corners. Not only will you wind up paying more for the 4-Series in the beginning, but BMW's nickel-and-dime structure for its options means you'll likely pay even more than you think.
For something outside of the established luxury realm, there's the Kia Stinger. It can hold more cargo than the A5, is much more affordable, has a more powerful four-cylinder engine, and comes with more standard safety features.