After a 15-year break from the States, the Audi A6 allroad will return to the U.S. for the 2020 model year, giving crossover shoppers a new, more car-like option that can handle hauling cargo and throwing dirt.
For 2019, the Audi A6 lineup received a full-on redesign, bringing in a sharper take on the brand's timeless design language. The 2020 A6 allroad will build upon this design with a wider grille featuring vertical slats, a unique front bumper, 20-inch wheels, an exclusive rear diffuser, and, of course, a hulking wagon tail section to distinguish it from the sedan. The allroad will sit up to 1.8 inches higher than the A6 sedan, giving it an off-road-ready 7.3 inches of ground clearance in its max setting.
As long as you don't look backward, sitting in the 2020 Audi A6 allroad won't differ much, if at all, from the A6 sedan. The dash layout, button placement, steering wheel, and most everything else up front will carry over from its sedan sibling. The only notable differences will be in the standard features list, which in the A6 allroad will include a panoramic sunroof, ambient LED lighting, and a Bang & Olufsen 3D audio system. If you look rearward, though, that massive cargo area will give away the fact your in a wagon and not a sedan.
Powering the 2020 Audi A6 allroad will be a 3.0-liter turbocharged V6 engine that will push 335 horsepower and 369 pound-feet of torque through a seven-speed S tronic dual-clutch transmission and out to all four wheels.
While its drivetrain will be great for getting this wagon moving, what will really make the 2020 A6 allroad a star will be its adaptive air suspension that will adjust along with the six driving modes.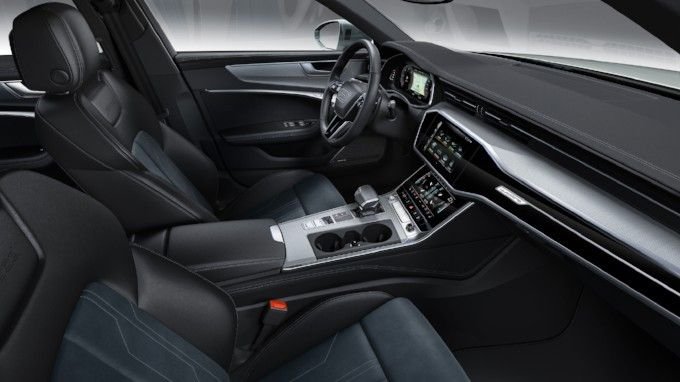 In "Auto" and "Comfort" modes, this wagon will sit 5.5 inches off the ground. Switching to "Dynamic" mode will drop the ride height to 4.9 inches to lower its center of gravity for carving up the corners. In "Individual" mode, you can fiddle with each setting yourself, including ride height. "Off-road" mode will push the ground clearance to 6.7 inches at speeds up to 21.7 mph. Finally, if you hit really rough terrain, you will be able to activate "Lift" mode at speeds under 21.7 mph and get the full 7.3 inches of ground clearance.
There are no safety tests on the 2020 A6 allroad yet, but its source material, the 2019 A6 sedan, is an IIHS Top Safety Pick+. It received "Good" scores in all crash tests, a "Good" headlight score with the LED projector lights in the Premium Plus and Prestige trims, and "Superior" front crash avoidance with its standard automatic emergency braking. We expect all these ratings to carry into the wagon unchanged.