Typical Audi design. The 2020 Audi A6 wears its sheet metal well and is designed to look very similar to other Audi models. This isn't a bad thing, although you may have some difficulty distinguishing some models at first glance.
The A6's canvas is low and sleek, marked by a broad, octagonal grille and distinct LED lights front and back. It features pronounced character lines, large wheels, and chrome finishing.
Inside, the cabin includes fine wood, leather, and other high-end materials befitting a luxury sedan. The two-screen display seems over the top, but it's a unique design nevertheless.
Robust power and then some. Audi supplies the A6 with a choice of two turbocharged engines. The standard 2.0-liter four-cylinder develops 248 horsepower and 273 pound-feet of torque and is a good place to begin. It delivers ample step-off acceleration and decent passing power.
For a more spirited drive, the 3.0-liter turbo-six rolls out 335 hp and 369 lb-ft of torque. Opt for the second choice and the available suspension upgrade if you crave strong performance and have some cash to spare.
Power is sent to all four wheels as Audi's legendary quattro all-wheel-drive system holds sway. Both engines are surprisingly efficient too, with the standard arrangement delivering 27 miles per gallon combined and the V6 24 mpg combined, according to the EPA.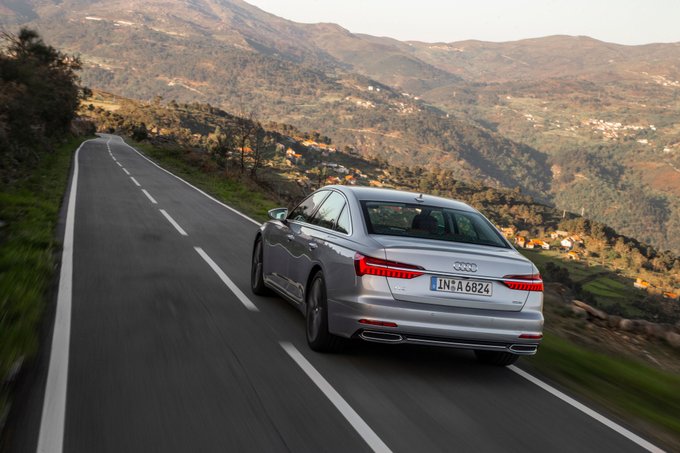 Intersection of comfort and luxury. Comfort and luxury are two hallmarks of premium sedans, and the A6 aces both.
The interior is beautifully crafted with standard leather-trimmed seats, metallic touches, and real wood trim. Automatic climate control, power front seats, and cooled massaging seats are other features of note.
If there's a downside to this sedan, it's with the trunk. Offering just 13.7 cubic feet of cargo space, we've found larger trunks in certain mainstream compact models. It has a wide opening and a low floor, but if you're looking for more space, the Audi Q5 might prove the better choice.
Safety an important ingredient. We're happy Audi takes safety very seriously, not just with the design and standard features, but with the many advanced driver-assist technologies commonly available today.
To begin, every A6 has automatic emergency braking, lane departure warning, and automatic high beams. Adaptive cruise control, a surround-view camera system, and lane keeping assist come standard on higher trims. These are the kinds of equipment consumers expect these days.
The IIHS has incrementally raised the crash testing bar, making it more difficult for manufacturers to achieve its coveted designations. Nevertheless, the A6 earned a Top Safety Pick Plus award.
However, this doesn't apply to the base model that misses out on the LED headlights that come standard starting on the Premium Plus. Still, that's quite a feat and it offers buyers a measure of confidence going in.
Final thoughts. The 2020 Audi A6 excels in its segment, even as the market for sedans continues to shrink. For consumers still in the game, the A6 is a formidable competitor to the Mercedes-Benz E-Class as well as the BMW 5-Series.
The well-equipped Prestige trim with the V6 engine costs about $70,000, which is the starting price for the Audi A7. The A7 offers greatly improved storage space and may be the better choice for consumers not wanting to make the switch to utility vehicles.