Style and substance. Audi gets partial credit for popularizing the fastback shape that's so fashionable among today's sedans. Nowhere is it on better display than the 2020 Audi A7, which continues to offer an intoxicating blend of beauty, luxury, and practicality.
The A7 received a refresh last year. The new design flows clearly from the old, but it's sharper and louder, and perhaps a more polarizing look. The lovely sloping roofline is intact, and it's as eye-catching as ever.
But back to that practicality. The same roofline allows the A7 to wear a hatchback tailgate, giving it 24.9 cubic feet of cargo space. That jumps to 49 cubic feet with the seats folded – a number that puts some SUVs to shame, which is a neat trick in a luxury sedan.
A hybrid … technically. The A7 comes with a single powertrain based around a turbocharged V6. Joining the engine is a 48-volt electrical system, which makes the A7 – technically – a hybrid.
Though the system makes a healthy 335 horsepower, don't expect true hybrid efficiency. According to the EPA, the A7 only gets 24 miles per gallon combined, which isn't even as good as the (more powerful) Mercedes-Benz CLS 450.
In the Audi's favor, it comes with standard all-wheel drive. The quattro AWD system is biased toward the rear, but it can send up to 80% of the power forward, boosting the A7's practicality further. For an all-weather warrior with enough space for ski gear, 24 mpg combined isn't too shabby.
The A7 is a big car, and it won't offer the darty fun of smaller sports cars. Still, handling is confident, complemented by a quick-shifting transmission. For an even better experience, add the optional four-wheel steering system, which makes the A7 feel smaller than it is.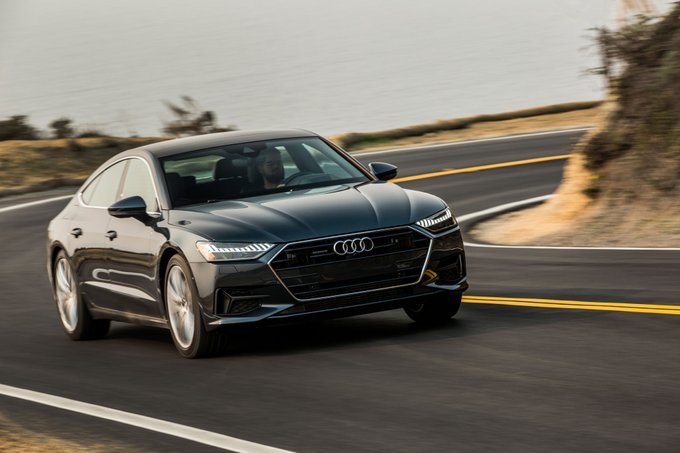 How many screens is too many? Audi isn't known for holding back on technology. In the A7, they took the traditional central touchscreen and added another one right below it. In case you'd like some tech with your tech.
The results are impressive but aesthetically mixed. The infotainment system is as modern as any, with full smartphone compatibility and a surprisingly intuitive interface. Still, staring down so much electronic real estate makes the interior feel a touch sterile, even if screens are becoming increasingly common.
The screens also hold safety features like parking sensors and a rearview camera, which join standard safety equipment like automatic emergency braking. The A7 hasn't been crash tested, but we expect it to live up to the brand's usual reputation. In this arena, technology is put to good use.
A car to do it all. It isn't often that a car manages to combine so many attributes under one roof. The A7 is a comfortable luxury cruiser, but it's also big enough for family duty, adventurous enough for mountain towns … and stylish to boot? That's a tempting package.
We have some minor quibbles. The biggest is the rear seat, which loses some head room to that lovely roofline. Watch your head on the way in.
But the main barrier to A7 ownership is the price. The A7 may be able to compete with small SUVs, but with a starting price of $70,000, it had better. The middle Premium Plus trim, which gets even larger screens and more advanced safety tech, is our favorite – but it starts at nearly $75,000.
Final thoughts. It's hard not to like the 2020 Audi A7 for both its beauty and its sheer range. This is a car that's nice to drive, nice to ride in, nice to use, and nice to look at. Impressive.
But it's still a luxury buy, and these days that means tough competition. There are the usual competitors in the Mercedes CLS-Class and the BMW 6-Series, but many modern buyers will be tempted away by swoopy crossovers like the (shockingly cheaper) BMW X6.
If you ask us, though, the A7 still wins out on beauty and athleticism. If you can afford the price of entry, it's hard to imagine being disappointed with it.