Clean, conservative styling. Audi's design language is nearly uniform across the entire brand, and that's what makes a budget-friendly Audi A3 look a lot like the full-size A8. Yet, the 2020 Audi A8's lengthy canvas imparts a level of elegance that only sheer size can articulate.
Audi eschews the polarizing look of certain competitors, such as the Lexus LS, by delivering clean and conservative styling. The most recent redesign, conducted last year, features a broader grille that seems to sit closer to the pavement.
The narrow headlights that press in are intricately designed and do everything to enhance the front fascia. Angular lines, gentle curves, and wide LED taillights are among the key features of note.
Inside, the cabin is dominated by a central screen, which eliminates most buttons and knobs. It's a modern look that almost seems sterile, but the warm hues of the cabin offset that vibe. Wonderfully precise lines and superb fit and finish are hallmarks of this big sedan.
Lots of powertrain choices. The A8, an all-wheel-drive sedan, comes with multiple powertrain choices, although the plug-in hybrid and the V8 are late arrivals. The base 3.0-liter turbocharged V6 engine supplies strong acceleration and works well with the eight-speed automatic transmission. This engine produces 335 horsepower and 369 pound-feet of torque.
Once the available hybrid arrives, it'll add 108 hp to the V6, thanks to an electric motor. It offers 17 miles of electric-only driving and averages an EPA-estimated 23 miles per gallon combined, just two mpg better than the V6.
At the top end of the powertrain, family is a 4.0-liter twin-turbo V8 engine that produces 453 hp. Opt for the performance S8 version and this engine is tuned to deliver a whopping 563 hp. In whatever guise selected, the V8 makes for a strong rival to its BMW, Mercedes-Benz, and Lexus competitors.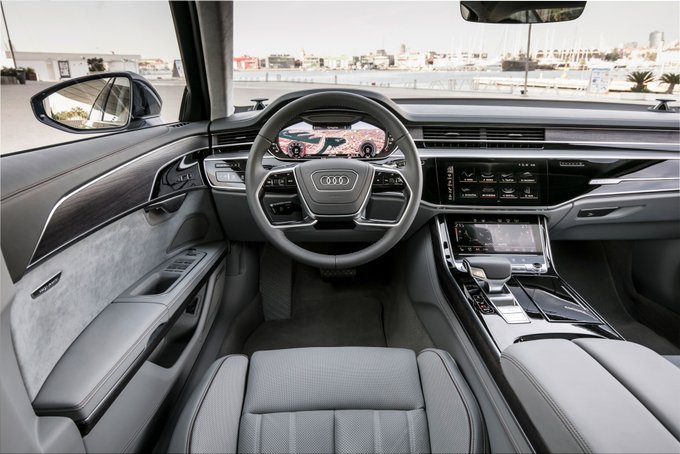 Large interior, small trunk. A calming and soothing interior puts the A8 at the top of its class. The spacious and plush seats are all-day comfortable.
The front seats have 18-way controls and come wrapped in resplendent leather. Options to raise the luxury quotient include cooling seats, massage-capable seats, softer hides, and even more adjustment levels.
For rear-seat riders, there's oversized door openings, terrific stretch-out space, and about as many luxuries as those supplied upfront. Consider the available package that adds heating, cooling, and massaging functions for the reclining right-rear seat. Both rear-seat occupants get their own tray and LED lights.
On the flip side, the trunk is very small, measuring just 12.5 cubic feet, which is tiny for the class. All that interior room comes at a price to storage space, so keep this in mind when shopping for an A8.
Well-equipped trims. The standard A8 supplies an adaptive air suspension, 18-way adjustable front seats, dual center touchscreens, Apple CarPlay and Android Auto compatibility, an exquisite 17-speaker Bang and Olufsen audio system, a panoramic moonroof, and many other features. There's not much more that you'll need, but there are still other options for the taking.
The available Luxury Package brings in more supple leathers, a synthetic suede headliner, aluminum buttons, and ambient lighting. If spirited driving is your pursuit, then opt for the rear-axle steering system and predictive suspension.
Final thoughts. The 2020 Audi A8 has above-average tech features, robust powertrain choices, and a wonderfully comfortable ride. The technology is in place to supply fully autonomous driving at lower speeds, pending legislation stateside. Clearly, the A8 has something for well-heeled buyers, with excellent styling acumen inside and out, making it a worthy player in the segment.