Model Preview
For 2019, Audi redesigned its tiny Q3, giving it a new look, powertrain, tech, and more. With this still fresh and on point with the rest of Audi's lineup, we expect the 2020 Audi Q3 to remain unchanged when it hits showrooms.
The 2019 Audi Q3 continued the brand's trend of not making huge waves with its redesigns. Instead, the new-generation Audi Q3 arrived with the same basic proportions as the previous model but with a nose job, a wider grille, a sharper bumper, more chrome, updated wheel flares, new LED taillights, and more. With this new look still sharp, we expect no changes when it arrives.
On top of its visual updates, the new Q3 is 1.5 inches taller and 3.8 inches longer than before. This closes the gap between it and the larger Q5 but still leaves enough room between them for the upcoming Q4, which debuted as an e-tron model at the 2019 Geneva Motor Show.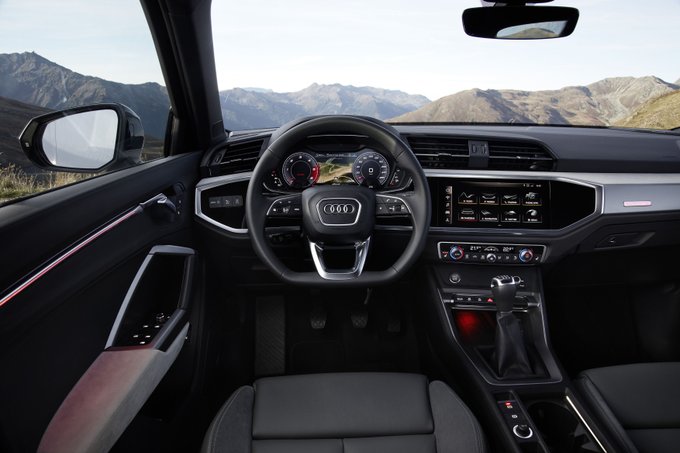 Inside, the new-generation Q3 received a more deliberate update that included a focus on horizontal lines to visually widen the cabin and controls that are angled toward the driver. Audi also piled more standard features on top of the updated looks, including a 10.25-inch digital instrument cluster, an 8.8-inch infotainment screen, USB-A and USB-C connections, heated leather seats, a panoramic sunroof, and more. We expect this to all remain the same in the 2020 Audi Q3.
Under its hood, we expect no changes for the 2020 Q3. If this is the case, it will continue with a 2.0-liter turbocharged four-cylinder engine that will crank out 228 horsepower and 258 pound-feet of torque. This power will route through a standard eight-speed Tiptronic transmission and out to all four wheels for a seven-second 0-to-60 time.
Audi fixed the Q3's glaring issue, which was its lack of automatic emergency braking, with standard Audi Pre Sense Front in the new-generation model. Despite this update, it still failed to earn IIHS Top Safety Pick honors due to a "Poor" headlight rating. We expect this to remain the same when the 2020 Audi Q3 hits showrooms.
Pricing & Release Date
There is no official release date for the 2020 Audi Q3, but we don't expect to see it until early in 2020 based on the late arrival of the 2019 Q3. There are no official prices for the 2020 Audi Q3 either, but with no changes coming, we do not expect a big shift from the current MSRP range of $35,695 to $36,995 ($995 destination fee included).
The 2020 Audi Q3 will compete with the BMW X1, Mercedes-Benz GLA-Class, and Lexus UX.
Learn more about the current Q3 on sale now »
Pictured: 2019 Q3