Classic luxury. The 2020 Audi Q5 is exactly what most people think of when they picture a luxury crossover SUV. All models are equipped with real leather, power-adjustable and heated front seats, high-quality materials, and well-positioned wood and metal inlays. Hard plastic surfaces are scarce, and there is plenty of room for four adults (five will fit in a pinch).
Audi clearly thinks that subtly is the name of luxury and that evocative looks are for the plebs. Inside and out, you'll find nothing offensive, but offerings from Jaguar, Alfa Romeo, and Mercedes-Benz tend to stand out a bit more in the Whole Foods parking lot.
Potent powerplants. The Q5 is now offered with three different engine choices, including the powerful SQ5 (covered separately). Base Q5 models get a 248-horsepower, 2.0-liter turbocharged four-cylinder that's never wanting for power. Combined with one of the best dual-clutch automatic transmissions available and Audi's signature Quattro all-wheel drive, the Q5 delivers consistent traction, quick acceleration, and a 4,400-pound tow rating.
Audi has also upped the ante for 2020 with a plug-in hybrid variant that adds an additional 141-hp electric motor and 14.1-kWh battery pack to the base model's 2.0-liter turbo-four.
This gives the Q5 an electric-only range of 20 miles, according to the EPA, while boasting a top charging time of 2.5 hours. The party really starts when the gas engine kicks in, as the combined power of both motors can take your breath away.
A technological marvel. The Audi Q5 is equipped with compelling technology at all trim levels that's integrated far more intuitively than we've experienced in competing models.
Basic Q5s receive keyless entry, some active safety features, a large infotainment screen with Apple CarPlay and Android Auto, and a 7-inch digital instrument cluster. That's quite a lot to start with compared to many luxury crossovers.
As you would expect, it gets better the more you spend. Higher trim levels get Audi's excellent Virtual Cockpit, which replaces the instruments with a brilliant 12.3-inch configurable display with two modes, as well as a larger 8.3-inch infotainment screen that adds voice control and navigation.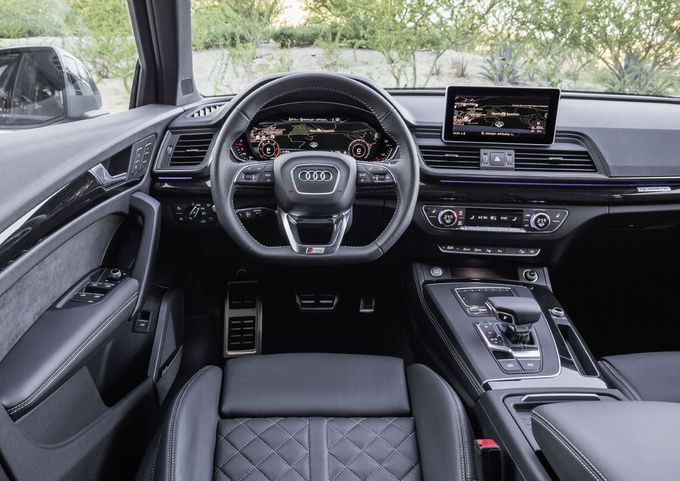 Top trim models may be pricey, but buyers are rewarded with an excellent Bang and Olufsen audio system, adaptive cruise control, and a head-up display.
Straightforward options. Unlike many German luxury cars where the price starts rising if you even glance at the options sheet, the Q5 is refreshingly easy to spec. Upgrades are generally baked into their respective trim levels, and the actual number of options are scarce. Even the Premium Plus, the most option-heavy trim, only has six boxes to check that inflate the price.
The weirdest thing about the Q5's options is the no-cost options on the base Premium model. The Convenience Package and Convenience Plus package are both considered packages, even if they don't cost anything and are full of desirable features.
While we would expect most dealership models to include these packages in their Premium models, it would be prudent to check the Monroney label to be sure when shopping for a Q5.
Solid marks for safety. The Q5 has done very well in federal and independent crash testing. The IIHS named it a Top Safety Pick, while NHTSA awarded it a five-star overall safety rating due to how well it held up in collisions.
Also noteworthy is the active safety technology, which includes standard low-speed automatic emergency braking with pedestrian detection. Blind-spot monitoring, rear cross-traffic alert, lane change assist, and even a vehicle exit warning that will warn you against opening your doors into oncoming traffic are part of the aforementioned Convenience Package.
Higher trim levels get more advanced features like adaptive cruise control and automatic parking. However, these aren't the best safety features we've seen from Audi, so there's some room for improvement.
Final thoughts. The 2020 Audi Q5 is the most popular vehicle in the brand's lineup, and one of the best-selling luxury crossover SUV models on the market. It isn't difficult to see why either, as it's comfortable, filled with cutting-edge technology, inoffensively designed, and decidedly upscale. It's the benchmark for luxury crossover SUVs that everyone else is trying to improve upon, but few can offer the full package like Audi does.
If speed is in your blood, the SQ5 may be worth the upgrade with it's potent turbocharged V6 and performance tuning. Those looking for something a bit sleeker and more evocative would be served well by the Jaguar F-Pace, while the Mercedes-Benz GLC-Class stands out with its beautiful interior.