Though it just went through a full redesign in 2016, 2020 Audi Q7 appears to be the newest victim of shortening production cycles, as it will receive a significant refresh. The new-look 2020 Audi Q7 will not go through any dramatic transformations, but it will boast a noticeably different appearance and updated tech.
The 2020 Audi Q7's body will feature the same basic design as the current model, but its front and rear ends will receive updates to keep it fresh and it'll grow by 0.4 inches in length. Up front, the Q7 will get new Matrix headlights, an updated grille insert with more prominent vertical bars, and a reworked bumper with larger air inlets. Around back, the 2020 Q7 will gain thinner taillights with more technical-looking graphics, a new chrome connector between the taillights, and a more flush rear bumper.
Inside, the 2020 Q7 will take on an all-new look. The dash will continue to feature near full-width air vents to visually widen the dash, but it will also get tons of new items, including two touchscreens, a gloss-black dash insert, a shorter shifter, a flat-bottom steering wheel and much more. On the tech side, it will boast optional four-zone climate control, power-close doors, a digital instrument cluster, a Bang & Olufsen 3D sound system, and an air ionizer and fragrance.
The Q7 will be receiving a new 3.0-liter turbo V6 engine that puts out 335 horsepower and 369 lb-ft of torque. Audi states that this new powertrain will allow for peak production at wider and lower RPM ranges compared to the one in last year's model. It will be coupled with an eight-speed transmission and makes for a 0-60 time of 5.7 seconds.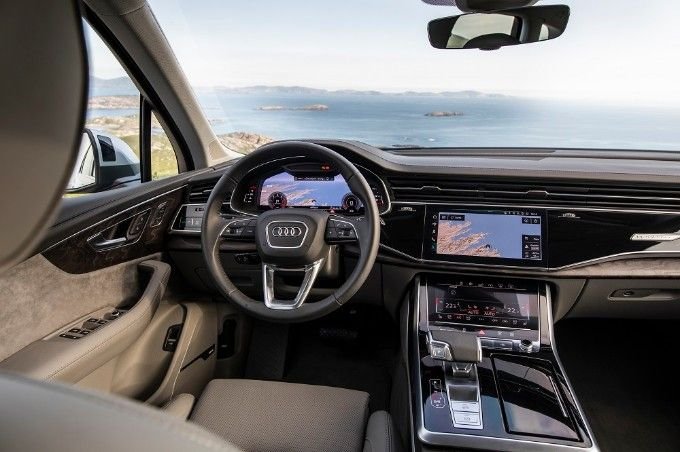 To help in the handling department, Audi will add a few chassis tweaks to the list of updates to the 2020 Q7. these updates will start with electromechanical active roll stabilization that helps reduce body movement in corners and on uneven roads. It will also receive all-wheel steering that allows the rear wheels to turn by 5 degrees at low speeds.
The current Audi Q7 received high marks in crash safety from the IIHS due to its strong structure and standard automatic emergency braking. Despite these great ratings, it missed being a Top Safety Pick due to "Marginal" headlight scores. We have to wait on testing to see if the 2020 Q7 will improve upon the headlight situation and earn Top Safety Pick status.
Audi announced the 2020 Q7 will add Adaptive Cruise Assist that handles stop-and-go traffic on cruise and keeping you in your lane. If the all-new Emergency Assist notices if the driver is inactive, it will stop the vehicle and initiate emergency protocols and rescue measures.