Stoic excellence. One-percenter crossover SUVs are proliferating these days, coming from brands as haughty as Aston Martin and Rolls-Royce. Yet one spin in the 2020 Audi Q7 will have you doubting the merit of those highfalutin vehicles.
Even a fully-loaded Q7 won't break the six-figure barrier, but its silent cabin, massive space, and top-notch materials will have spoiled passengers thinking otherwise. Just as convincing is its impeccable ride and potent powertrains, including a new 500-horsepower V8 on the SQ7 variant (covered separately).
The sum of all these attributes is an understated, unflappable, highly luxurious vehicle in the proper Germanic tradition. The 2020 refresh, which brings mildly massaged styling and updated cabin tech, only further entrenches the Q7's position as a preeminent luxury crossover SUV.
More power, worse fuel economy. A shuffling of engine options marks the Q7. Chief among the underhood updates is the loss of the 3.0-liter supercharged V6. Replacing that beloved V6 is a new turbocharged replacement of similar displacement. With 335 horsepower and 369 pound-feet of torque, the turbo V6 trumps the old engine by two hp and, more significantly, 44 lb-ft of torque. The added grunt helps this big crossover hustle from 0-60 mph in 5.7 seconds.
The new V6 doesn't do anything to boost gas mileage, though. It's actually the opposite: Q7s with the turbo V6 are rated at just 17 miles per gallon city, 21 mpg highway, and 18 combined, according to the EPA. That's a steep drop from the prior-year supercharged V6, which was rated for 19/25/21 mpg (city/highway/combined). The drastic drop in fuel economy comes despite the incorporation of 48-volt mild hybrid technology.
Fuel economy isn't the only thing the new engine gives up. In our first spin of this turbo-six, we were dismayed to find that there's not as much character as the old supercharged engine had. The mediocre sound under heavy throttle also leaves our ears pining for the old engine. Nonetheless, this turbo V6 remains our choice of the litter.
Coming standard on most Q7 trims is a 2.0-liter turbo four-cylinder. This engine is unchanged from last year, and still feels like the budget option in terms of acceleration and smoothness of operation. We'd much rather suffer the fuel economy of the V6 than the tepid persona of this unexciting motor.
Newly available is an SQ7 that's powered by a twin-turbo V8. It generates a stout 500 hp and 568 lb-ft of torque. It won't be cheap by any means, but has the potential to hit 60 mph in just 4.3 seconds. For those who want a Porsche Cayenne without spending Porsche money, the SQ7 is your chariot.
Whichever motor suits your fancy, all Q7s ride with aplomb. The base suspension would be fine enough for us, but an available air suspension coddles like memory foam – try it and you'll be hard-pressed to settle for the standard coil-spring setup, good as it is. And the eight-speed automatic transmission that mates up to all engines does its part to contribute to the serenity of the Q7, as shifts are glassy smooth and largely imperceptible.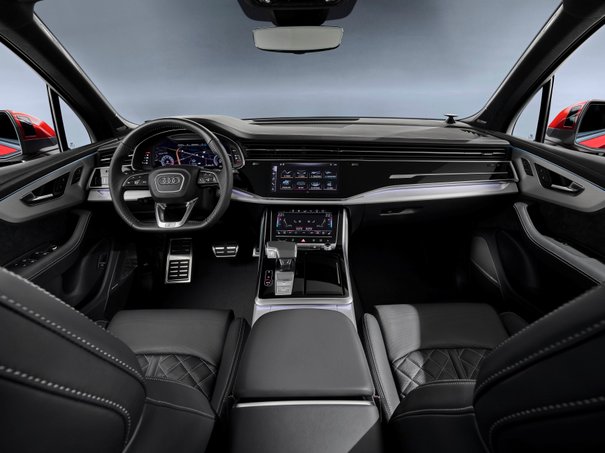 Tech wizardry. Last year's Q7 was plenty advanced in terms of in-car technology, but the 2020 model ratchets that up threefold – and by that we mean three screens now greet drivers in all models.
It starts with a newly standard 12.3-inch all-digital instrument cluster that displays customizable readouts, navigation maps, and other pertinent data. Moving from a retractable screen on the dashtop to an in-dash design is the primary 10.1-inch infotainment display; it is now controlled by touch rather than a console-mounted rotary knob. Climate controls are handled by an 8.6-inch touchscreen positioned below the 10.1-inch unit.
The result visually streamlines and simplifies an interior design that was already tastefully pared down to begin with. Moving the infotainment display to an in-dash touchscreen is a particularly welcome move, opening up more forward visibility. Its operation will require drivers to look away and down from the road, however.
For those enamored with touchscreens, the tech-heavy updates will be lauded; those who prefer spinning knobs and pressing buttons will be cursing the revised interior. Luckily, the Audi infotainment system, be it touch- or rotary-enabled, is an intuitive software that won't leave you shouting profanities while trying to change the radio station. Speaking of radio, the Q7 has standard Apple CarPlay and Android Auto compatibility.
Other technology abounds elsewhere. An available air suspension can lower the vehicle and soak up even the most rutted roads. The optional head-up display and surround-view camera provide additional peace of mind. A 23-speaker sound system offers premium sound on the top-spec Prestige trim.
Comfortable, well-built interior. The rest of the interior is a study in fine materials and high-quality craftsmanship. Even base models won't leave anyone wanting for much.
Every Q7 is upholstered with genuine leather; high-trim models can be had with sumptuous quilted hides that are softer than the base-model stuff. The standard seats are heated and come with multi-way power-adjustment, while the premium seats are heated, cooled, and can massage away the knots in your back.
The switchgear is especially definitive of the Q7's station in life. Push down a window switch; spin the dial for the lights; turn on the wipers; each push, pull, twist, and flick of any interior control has a defined, well-weighted action that bespeaks quality. Nothing rings cheap or feels hollow in this interior. You'd think that Audi casts their buttons and switches out of granite, so satisfying is the tangible heft of all the controls.
Passengers only get to play with the window switches, but they'll be too comfortable to care. Second-row passengers get 39 inches of leg room. Those seated in the outboard positions can manually adjust the forward/aft position of the seat as well as the recline. The massive side-door glass will put even the worst claustrophobics at ease.
There's a standard-issue third row, but adults would do better to stick to the front two. The scant 29.2 inches of leg room afforded by the way-back will leave even shorter folks with their knees in their mouth.
Final thoughts. The 2020 Audi Q7 is a veritable Q-ship. It's big but not absurdly so, feeling much more manageable than the gilded school bus that is a BMW X7 or Mercedes-Benz GLS-Class. It's undoubtedly luxurious, yet it isn't saddled by the shocking sticker prices worn by some opulent SUVs. And its available turbo V6 has enough grunt so to never feel taxed (never mind the thunderous V8 on the SQ7).
Indeed, it's hard to find fault with this big Audi. We noted the lackluster base engine and the prodigious thirst of the new V6. But between the top-notch interior, seamless technology, and stoic demeanor, the Q7 is a convincing choice in the cutthroat segment.