Little size, big safety. The 2020 BMW X3 achieves one of the highest safety ratings among small luxury crossovers. It boasts an IIHS Top Safety Pick Plus designation, the highest possible. Moreover, the X3 carries a five-star overall safety rating from the NHTSA. Not many models can claim top scores from both testing entities.
Beyond the scores, the X3 delivers some very useful equipment, including automatic emergency braking. However, most other active safety equipment is wrapped within various add-on packages.
As for its size, the X3 is larger than you might expect. Or at least it tops the range of what's considered a small crossover – it's very roomy inside.
Ample performance. There's no weak engine found in any X3 model. To begin, you'll find a peppy 2.0-liter turbocharged four-cylinder with an output of 248 horsepower.
Choose the M40i, and the performance quotient increases considerably. Driving this model is a 3.0-liter twin-turbo V6 engine with 382 hp and a 4.4-second 0-60 mph time. Up to 100% of the torque travels to the rear wheels, while steering and handling equal what you'd find in a BMW 3-Series sedan.
Even more power flows from the two M models, delivering an outstanding 473 and 503 hp, respectively. The same engine is utilized, but with enhanced tuning to squeeze out far more power.
Another benefit is towing capacity, as this vehicle can pull up to 4,400 pounds.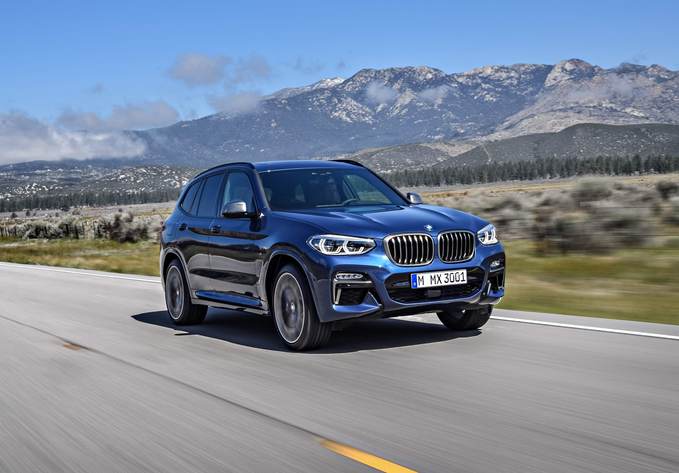 Fuel efficient, but without electrification. Lots of power on tap means fuel efficiency takes a hit, but the impact is minimal. The standard model earns an EPA-estimated 27 miles per gallon combined. The standard X3 compares favorably to the Audi Q3 and Mercedes-Benz GLC-Class.
The performance X3 M models take a big hit, with fuel efficiency falling to just 16 mpg combined. That's not unusual, but at least no gas guzzler penalty is assessed.
BMW hybrid technology would be a welcome option here, but it isn't yet available. Instead, shoppers must consider a pair of sedans: the BMW 5-Series or BMW 7-Series. Another option is the two "i" models, the BMW i3 and BMW i8, which bring full electrification or range-extending hybrid tech.
Prices range from mild to wild. It isn't uncustomary for luxury brands to roll out a vehicle with a competitive base price and then tout several upgrades that ultimately doubles the price. The X3 begins around $43,000, but most models easily top $50,000 when various package upgrades are taken.
Some of the additional charges are annoying, including an $80 per year Apple CarPlay subscription after the first year (sorry, you still won't find Android Auto). You'll also pay extra for certain driver-assist features and exterior and interior upgrades.
At the top end of the scale is the X3 M Competition, which brings every performance enhancement possible to the table. It's $77,895 starting price is the trade-off.
Final thoughts. The 2020 BMW X3 does everything it must do to attract luxury shoppers with its handsome looks, stellar safety ratings, cutting-edge technology, and roomy interior. It adds a robust performance quotient with any of its M models.
We think most buyers will find the standard four-cylinder engine sufficient and xDrive all-wheel drive their preferred choice.