Harbinger of the future. Automotive engineering has come a long way since its humble beginnings. The original task was just to build something halfway reliable; that directive soon expanded to include performance; from there the focus widened again to include fuel economy and emissions. Now we're at the point where accomplishments once deemed impossible are merely considered ho-hum.
Viewed from this context, the 2020 BMW X4 makes sense. The brand that built itself on the phrase "The Ultimate Driving Machine" could only build this sporty coupe-like SUV in today's automotive climate, one where old axioms are being pushed aside in pursuit of progress. Not only does the X4 handle like a famed BMW sport sedan, opt for one of the three available M-badged models, and you'll get serious straight-line acceleration.
The X4, particularly in X4 M guise, is proof that driving dynamics and SUVs aren't mutually exclusive. It's not the only performance SUV out there, and it's not the first of the breed, but this BMW typifies where the market is going and what buyers are increasingly looking for from their next sporty car purchase.
Sports car performance. Being a BMW, the X4 sells itself on its performance. A quick look at the thing makes that claim seem a dubious one. What could be sporty about a big, hulking, and hunched SUV? A lot, it turns out.
Even a jaunt in the base X4 30i was enough to impress us. It gets its mojo from a 248-horsepower, 2.0-liter turbocharged four-cylinder. Despite being the entry-level engine, it's quiet and refined; a six-second 0-60 mph time means it should be quick enough for most buyers.
More importantly, the X4 can handle it. We pushed it along some twisty roads, and contrary to our expectations, it didn't give out early or squeal the tires in protest. It held to the road with hardly any body roll or understeer. The average buyer looking for a quick thrill on some backroads will be plenty satisfied with the 30i model.
A trio of available M-branded models steps this performance up a notch or three. The sanest of these is the M40i, which uses a 382-hp, 3.0-liter turbo straight-six. This version is the sweet spot of the lineup: smooth, sweet, and able to get to 60 mph in just 4.4 seconds, without an eye-watering price tag. The handling also goes up a notch from the already-impressive 30i.
New for 2020 is the full-bore X4 M and M Competition. The former gets 473 hp out of the M40i's 3.0-liter six; the M Competition wrangles 503 hp from the same engine. Both models can go from 0-60 mph in around four seconds.
We found ourselves gleefully shoving down the throttle just to enjoy that intoxicating power and the accompanying visceral soundtrack playing from the exhaust. These two models should expel any and all doubts about the M division's ability to turn an SUV into a sports car.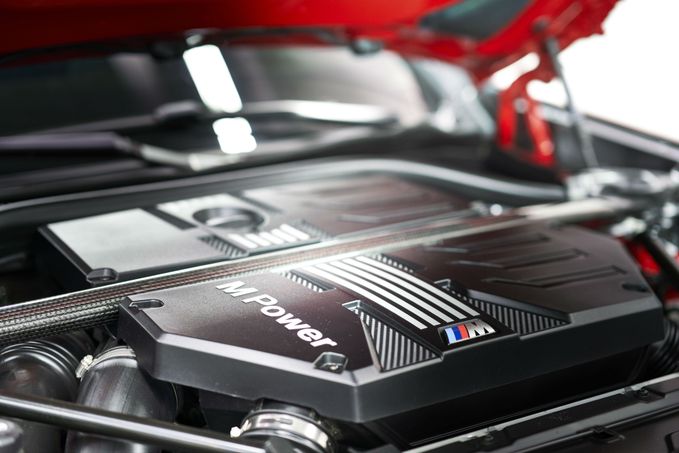 Form before function. If you're not familiar with the current BMW lineup, here's a quick primer: odd numbers represent the practical models. Even numbers are the beauty queens, usually based on the preceding odd-number model. It follows, then, that the X4 is the stylish variant of the more practical, upright X3. In pursuit of a sleek silhouette, though, the X4 leaves something to be desired in both passenger and cargo room.
Cargo room is most affected by the surgery that turns an X3 into an X4. Replacing the traditional SUV hatchback with a more coupe-like sloping roofline reduces cargo room to just 18.5 cubic feet with the rear seats in place. The X3, meanwhile, has 28.7 cubic feet of cargo space.
It's the same story with passenger space in the back seat. Rear legroom stands at just 35.5 inches, which is an inch shorter than that offered in the X3 and about 2 inches less than what's found in the competing Mercedes-Benz GLC-Class Coupe.
Perhaps worse than the dearth of legroom is the lack of headroom due to that sloping roof. Because it cuts down as it does, riders should duck their heads whenever getting in or out of the X4. Once seated inside, taller passengers will feel their scalps grazing the headliner.
It's not surprising the style-conscious X4 trades off usable space for curbside presence. But if you plan on using your X4 like the SUV it is – and by that, we mean piling in people and cargo – you'll occasionally find yourself wondering if the X3 may have been the better choice.
Options galore, intuitive infotainment. As befitting its position in the lineup, the X4 comes with an abundance of features. There are standard luxuries like a 10.3-inch touchscreen with Apple CarPlay, power-adjustable front seats, a power liftgate, and 19-inch wheels.
Our quibbles: Android Auto remains missing in action and leather doesn't come standard. We feel these grievances are fair considering the $52,095 base price. Another frustration is that BMW loves to charge extra for things.
Up until this year, they were charging for smartphone compatibility; they've finally dropped that practice, but if you want heated seats, keyless ignition, any driver-assist features, or any color other than black or white, you'll be paying extra. With all the desirable stuff coming at a cost, base prices are nothing more than optimistic starting points.
And prices only go up in a big way from the base 30i. An M40i starts at $61,995, while the X4 M and M Competition begin at $74,395 and $81,395, respectively. There's a few extra odds and ends thrown in with those models, but, for the most part, the upcharges can be largely attributed to the performance hardware found under the hood.
We'd be remiss in not mentioning how much we like the latest iDrive infotainment system that the X4 is running. This system is up there with our favorites in the industry, thanks to how easy it is to use and how quick it is for new users to learn. Though Android Auto isn't available, we think buyers will quickly forget that inconvenience once they start using the native software.
Final thoughts. The 2020 BMW X4 is a surprising thoroughbred, but should we be surprised? Technology has only furthered the envelope of what's possible with an automobile. Performance SUVs were once an oxymoron, but the X4 and its ilk have shown that's no longer the case.
If you don't mind the loss of cargo space or a cramped second row, the X4 is a winner. It performs like a true sporting BMW, it has excellent fit and finish, and it wears distinctive styling that's in vogue with current trends. For those ready to embrace the future of performance vehicles, the X4 delivers.