Slip into a new dimension of comfort and luxury. The 2020 BMW X5 delivers everything one would expect from a luxury SUV – comfort, performance, roominess, and more.
However, it plays in the hotly contested mid-size SUV segment with loads of equally amazing people-hauling options. With expensive upper trim levels, buyers may be tempted to cross-shop the X5 against some rivals from Mercedes-Benz, Audi, Lexus, or others.
Big, burly V8 engine, but is it really necessary? The X5 gains a new 4.4-liter twin-turbocharged V8 engine that delivers 456 horsepower and a wild 4.6-second 0-60 mph time. While this is a great way to establish dominance in the neighborhood, we just don't see the point of it.
The base 3.0-liter turbo-six is a timeless leader in the lineup that BMW's massaged to its max. In the X5, it pumps out 335 hp and 330 pound-feet of torque, which is good enough for a 5.3-second 0-60 mph time. This is plenty for the majority of buyers today.
It's this near-perfect six-cylinder engine that almost makes the 4.4-liter V8 unnecessary in our eyes.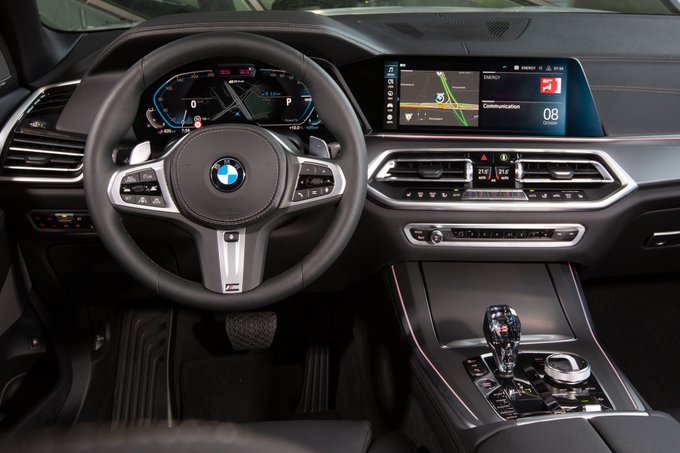 Loaded with standard wares, but at quite a price. The BMW X5 is a luxury SUV through and through, and it does little to hide this fact. This is especially true in its base trim that includes 19-inch wheels, synthetic leather upholstery, navigation, heated front seats, a 10.3-inch infotainment touchscreen, and Apple CarPlay and Android Auto compatibility.
There's even plenty of standard active safety features, including automatic emergency braking and traffic jam assistant.
While these features are great, the X5's $59,895 base price is enough to make anyone's eyes water. Many of the same features and more come in the Audi Q7, which starts at just $54,545, or the $55,245 Mercedes-Benz GLE-Class.
People, cargo, and groceries all ride in luxury. The X5 has 33.9 cubic feet of room behind its second-row seats for cargo, groceries, and anything else. Drop those rear seats and the cargo room balloons to 72.3 cubes. The Q7 only offers 69.9 cubic feet total, but the GLE offers 74.9.
The X5 does sacrifice some seating room for this cargo space, as second-row riders get just 37.4 inches of legroom. This may sound fine to most, but it's 1.1 inches tighter than the Acura MDX, 1.4 inches less than the Q7, and 3.5 inches tighter than the GLE-Class.
The X5 makes up for the second-row roominess with some of the most comfortable thrones in the class. There's also an optional third-row available, but it's far too tight for regular use.
Final thoughts. The 2020 BMW X5 is exactly what BMW advertises it as a posh luxury rig with an insanely satisfying performance. It also does its part as a family-hauling rig with all the cargo room you need and comfortable seats.
Buyers who have particularly tall rear-seat riders can get even more rear legroom in the Q7 or the GLE-Class. Shoppers with larger families who want a luxurious yet more affordable three-row model can look to the MDX or Cadillac XT6.