Redesigned but still funky. BMW joined the crossover coupe trend back in 2015 with the arrival of the BMW X6. This sloped-roofed crossover looked funky at the time but has since become relatively common as virtually every luxury automaker released one of these Honda Accord Crosstour wannabes.
The 2020 BMW X6 is all new, but like almost every redesigned BMW, you must look closely to spot all the changes. Up front, the X6 gains a larger grille and a restyled fascia to help boost its sporty glare. Not much changes in profile view other than sharped body lines and new wheels at the corners. Around back, this swoopy crossover takes on a more horizontal approach from its relatively flat spoiler and tailgate lines.
Break out the tape measure, and you'll find the X6 is longer, lower, and wider than the previous generation, giving BMW designers a larger canvas on which to work their design magic.
Big, bold, and maybe a bit much. There's no mistaking the BMW X6 is bold. Actually, it's probably bordering on polarizing, as there's plenty for buyers to love or hate in the X6's design. The sloped roofline's ship has sailed, so we won't touch on that, but the rest of the redesigned X6 is a tad on the dramatic side, especially its nose.
Up front, the X6 gains a larger example of the BMW kidney grille, and it takes up a lot of real estate, so we hope you're a fan of the brand's signature grille. Add to this massive grille its light-up option, and it can be a real distraction. Under the grille are massive air inlets that draw the eyes down and outward.
Once you pass the dramatic front end, the rest of the X6 is surprisingly timid and quite palatable. We may have mocked it for the coupe roofline a few years back, but this has become a key segment for nearly every luxury automaker.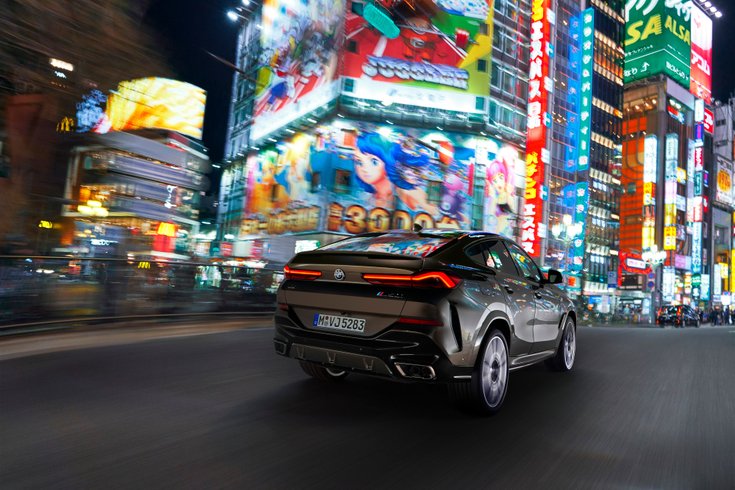 Cozy interior, limited head room gets more limited. The BMW X6 is an inch longer than the previous model and has a 1.6-inch-longer wheelbase. This gives its already roomy front seats even more leg room at 40.4 inches. Even the rear seats gain a little extra leg room at 35.7 inches, but it's still a far cry from the Audi Q8's 40.2 inches of second-row leg room.
Despite growing in most dimensions, the X6 went backward in the one area it could not afford to: head room. In its front seats, it offers 39.3 inches of head room, while the rear seats check in at 37.5 inches. While the former trumps the Q8 by 2.2 inches, the rear head room is 0.6 inches tighter in the X6.
Cargo room is notoriously tight in crossover coupes, but buyers really don't seem to care. The X6 checks in at 27.4 cubic feet with the seats up and 59.6 with the seats lowered. While that may sound decent, you can put this into perspective by comparing it to the BMW X5 – the X6's platform-mate – which boasts 33.9 to 72.3 cubes of space. At least it trumps the Q8's 60.7-cubic-foot cargo max cargo room.
In terms of techology features, the X6 does well with its standard automatic emergency braking, blind-spot monitoring, parking sensors, lane departure warning, 12.3-inch touchscreen, 12.3-inch digital instrument cluster, and Apple CarPlay. What it lacks, though, is standard Android Auto, which the Q8 and Mercedes-Benz GLE-Class Coupe come standard with.
Power on top of power. The BMW X6 offers a powertrain for everyone, and each performs well. The base 3.0-liter six-cylinder engine injects 335 horsepower and sprints the X6 to 60 mph in about five seconds. Moving up a step puts you in the M50i, which boasts a 523-hp, 4.4-liter turbocharged V8, which sprints the M50i to 60 mph in just 4.1 seconds.
The Q8 matches the X6's 335 hp, but it falls short in straight-line speed at 5.6 seconds to 60 mph. The GLE-Class Coupe offers nothing but AMG-tuned performance variants in the 385-hp AMG GLE 43 Coupe and the 577-hp AMG GLE 63 S Coupe, which sprint to 60 mph in 5.6 seconds and 4.1 seconds, respectively.
Final thoughts. There's no sugarcoating this: the 2020 BMW X6 isn't for the faint of heart. Its wild design is for extroverts who don't mind answering the "what the heck is that?" question in every parking lot. That said, it rewards these wild looks with performance to match, as even the base model will easily smoke the AMG GLE 43 in a straight line – no M badge necessary.
Buyers who need a little off the top in terms of wild styling will find this in the GLE-Class Coupe and Q8. Sure, they're both crossover coupes, so they're naturally eye-grabbing, but they're not nearly as attention hungry as the X6.
One big shortcoming for Android phone owners is the X6's continued lack of Android Auto support. This has become a huge selling point for many buyers and could be the tiebreaker between the X6 and GLE-Class Coupe or Q8.