A BMW, but more so. Neighbors just bought a new BMW 3-Series? Fear not – now you can out-BMW all those other owners. Enter the 2020 BMW X7, back for its second year on the market as the brand's biggest vehicle ever.
And we really do mean big. The X7 is nearly 17 feet long, larger than either of its closest Germanic competitors, the Audi Q7 and Mercedes-Benz GLS-Class.
Don't expect restraint in the styling, either. This is a BMW that advertises itself, from the tall ribbed kidneys in the grille to the slim LEDs and chrome at the rear.
The X7 wears a price tag to match its prodigious size. Starting just under $75,000 and running into six figures, this isn't an options list for the faint of heart.
Choose your adventure. What to do with all that space? With the X7, you have options.
The SUV comes with a third row, which is impressively spacious. This is one three-row vehicle where adults may not mind sitting in the way-back.
Alternatively, the X7 can fit a massive amount of cargo. Instead of the third row, buyers can have 48.6 cubic feet of cargo space, or 90.4 with both rows folded. It's hard to haul both things and people, though, as the X7 fits just 12.8 cubic feet with the third row in place. All the same, these are strong numbers in a class that prides itself on capacity.
If you do choose to go adventuring, the X7 can take on some fearsome terrain. All-wheel drive is standard, and an off-road package will take you farther from the pavement should you desire. We'd guess that most X7 owners won't need it.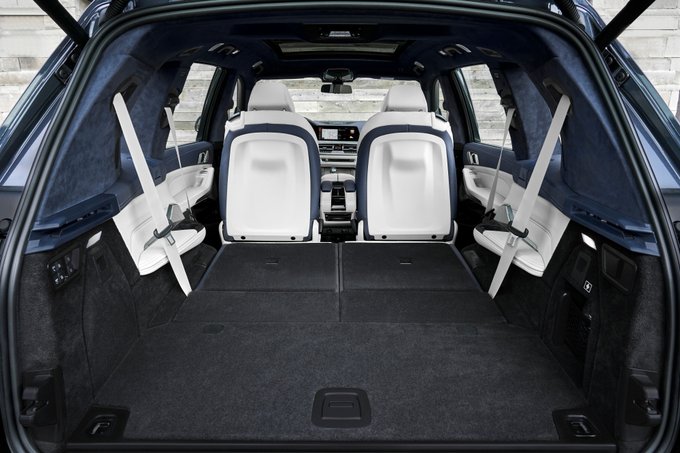 Sophisticated brute. On the inside, the X7 is all about class. Seats are exceptionally comfortable, fit and finish are excellent, and the space is unmatched. The dash holds a 12.3-inch infotainment touchscreen that keeps up with the best of them.
The X7 gets much of BMW's best technology. The standard suite of safety tech is already fairly good, including lane keeping assist and automatic emergency braking. Spend an extra $1,700, and BMW will install an advanced driver-assistance system that does an admirable job taking the strain off during traffic.
Under the hood, however, the X7 is all about muscle. The base turbocharged six-cylinder engine is competent and smooth, paired with a well-calibrated eight-speed automatic. It's reasonably efficient for a big SUV, achieving an EPA-estimated 22 miles per gallon combined.
The base engine is outshone by a 4.4-liter twin-turbo V8, which powers 50i trims and turns the X7 into a veritable rocket. The big SUV's mass means that it'll never be a corner carver, but it's surprisingly fast for a car of its size.
Anything worth doing is worth overdoing. Should you choose to continue spending, you'll be rewarded with some opulent trims. Options include glass controls, massage-capable seats, soft-close doors, and even heated and cooled cupholders.
We're not usually a fan of spending for its own sake, but the X7 may make the most sense in its more expensive forms. Thanks to the BMW Group's wide empire, the X7 forms the basis for the much more expensive Rolls-Royce Cullinan.
In top trim, the X7 is a reasonable competitor for the Rolls and other hyper-luxury SUVs. Odd as it sounds, competing with cars twice its price makes the big BMW a decent value.
Final thoughts. The 2020 BMW X7 is what you'd expect from the brand's biggest and brashest vehicle. Quality is top-notch, space is endless, and it broadcasts its price tag loud and clear.
That price tag is a hefty one, but we still like the X7 best with a V8 and a leather interior. For buyers spending this much, what's another ten grand?