Buick is set to shuffle its crossover deck a bit with the release of the all-new Encore GX. While it may share a name and vague resemblance to Buick's subcompact crossover, this is a brand-new rig with more to offer. Plus, it fills the hole between the subcompact Encore and the Envision, which is on the larger side of the compact crossover scale.
Call it a subcompact-plus, the 2020 Buick Encore GX will reportedly measure 175.7 inches long, 71.4 inches wide, and 64.6 inches tall. Reports also indicate a 104-inch wheelbase. These measurements would split the difference between the current Encore and Envision almost with surgical precision. The Encore GX will also boast a new look that includes thinner headlights a bolder grille, a wider grille-mounted wing that extends under the headlights, sharp ridges on its hood, and more to set it apart from its little brother.
Inside, the 2020 Buick Encore GX will take on a more luxurious look, leaving some of its little brother's cheaper bits behind. The cabin will gain a new steering wheel with a split lower post, a wide infotainment screen, additional contrasting colors, and more. Reports also point toward it coming with Amazon Alexa support. The official interior dimensions are not available yet, but Buick says its cargo area will be larger than the Encore by 5 cubic feet and smaller than the Envision by 3 cubes.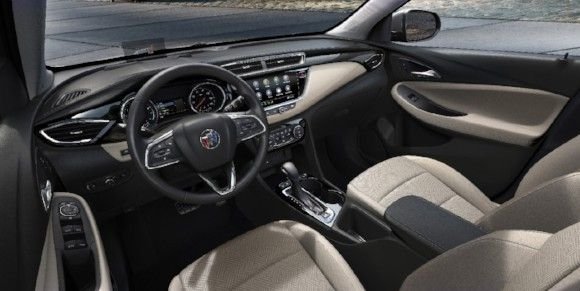 What will power the 2020 Buick Encore GX remains unknown at this point, but we could see a revised version of the existing 138-horsepower 1.4-liter turbocharged four-cylinder engine. For a little more power, Buick could repurpose Chevy's 1.5-liter turbocharged four-cylinder engine that puts out 170 hp in the Equinox. More on this will come as we near the Encore GX's release date.
One thing Buick does not hide about the upcoming 2020 Encore GX is its advanced safety features. It will come standard with forward pedestrian braking, automatic emergency braking, forward collision alert, and lane-keep assist. Buyers will have the option to add a rear camera mirror and a high-definition 360-degree camera.